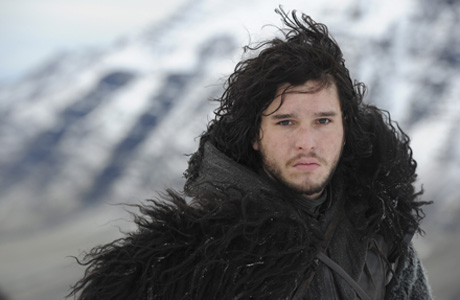 Yup, you read that right … the chaste Jon Snow is gonna get nekid. Game of Thrones star Kit Harington, who plays Snow, a steward of the Night's Watch, apparently agreed to strip down when signing onto the HBO show, reports Metro UK.
Harington isn't quite as shy as his on-camera persona saying, "I'm fine with nudity actually." He points out that there could be one hundred people on set but after the he strips off his robe he is oblivious to onlookers, saying, "After the first 30 seconds everyone's seen everything. I'm quite happy to strut around naked after that."
He not only agreed to it but put it in writing, explaining, "I signed a nudity clause way back when, so I knew at some point it's going to happen and I won't spoil it … for when it does."
We won't spoil it for you either but (Mini Spoiler Alert) if you've seen the trailers for Season Three we see Snow romantically embrace Ygritte (Rose Leslie), a wildling who he captured in Season Two but then she leads him into an ambush. The scene in the trailer is very quick and we had to rewind it a few times to confirm it was in fact Snow. Just to clarify, we didn't watch it over and over because we're keen on Harington or anything like that. It was all in the name of research.
This level of intimacy is a first for Snow since his oath to the Night's Watch swears off women.
What other kind of clauses do you think are there? 
Read More
Filed Under: