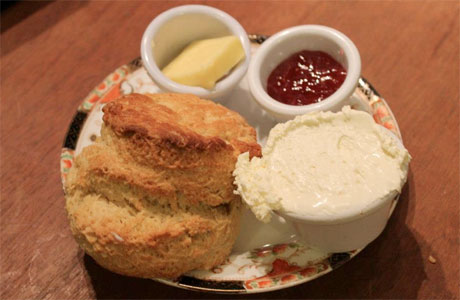 If you saw this week's Doctor Who adventure The Rings of Akhaten, you may find yourself unaccountably pining for a scone in the Lake District. You may not even be sure where the Lake District is, or if it is actually a real place (it is), but it won't stop the smacking of chops and gnawing in the belly.
Admittedly, the Doctor's most very favorite scones are not only in the Lake District but the Lake District of the roaring '20s, but, in the absence of TARDIS's of our very own, here are  five highly-ranked (by Tripadvisor)  tea shops in the area, as of right now.
Baldry's Tea Room
Baldry's is located in Red Lion Square, Grasmere, and is a perfect place (should you be passing) for a classic cream tea, served in a bone china pot. The scones are very highly rated, and are described on Lonely Planet as "buttery."
Broughton Village Bakery & Cafe
Should you find yourself in Broughton in Furness instead, the place to go is the village bakery. It's run by Shaun & Christina Bryant, members of the National Association of Master Bakers (no giggling!) the Broughton Bakery has achieved national prominence, having reached the top three in the ITV cake-off Britain's Best Bakery. The scones are, naturally, beyond reproach
St Martins Tea Room & Grill
In Bowness-on-Windermere, along St Martins Parade, you will find St Martins Tea Room and Grill. They have taken the liberty of introducing treacle to their scones, and this, by all accounts, has turned out rather well.
The Coffee Kitchen
A slightly heretical choice, this one, given that this award-winning artisan bakery's own menu baldly states that while there are many cakes and tray-baked goods on the counter for customers to sample, "Scones are available too," almost as an afterthought. But, they seem to be so very passionate about bread that you have to conclude all of their baked goods must be rather good. Oh, they're in Cockermouth (seriously. NO giggling), down Challoner Street.
The Apple Pie

Let's end our trip around the lakes in  Ambleside, Rydal Road, to be precise, next to the Old Bridge House. The Apple Pie is a bakery and cafe, praised for their bath buns and, yes, apple pies. They do do scones though, and have managed to create the kind of collossal scone/cream/jam burger that would give Adam Richman from Man Vs. Food that coronary he so clearly desires. You'll be fine though.
A final thought: do not be afraid, it does not matter if you pronounce it scone or scone (or even scone, for that matter). Everyone will still know what you mean.
Read More
Filed Under: