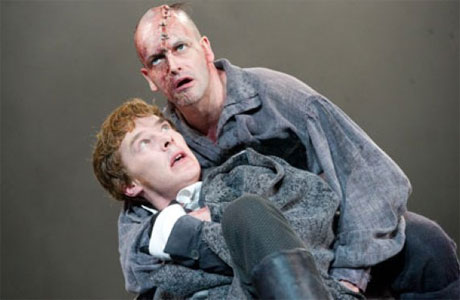 We've all experienced that curious jolting sensation when a beloved actor from a TV show or movie franchise we're really into suddenly appears in something else. "What," we ask ourselves, "is Voldemort doing running MI5? This can surely only bring trouble…"
And most of the time, we just have to accept that this is the way of acting. But there are times when producers clearly want to encourage fans of certain popular brands to come running, especially when there are empty theatre seats at stake.  And a good way of doing that is to have more than one actor from, say, Downton Abbey, appearing in your production of The Wind In The Willows.
Here are five examples of this sort of thing actually happening, although some of them have only become significant with the passing of time:
David Tennant and Catherine Tate: Much Ado About Nothing
The most celebrated example of a production quite rightly wanting to further explore the chemistry between two actors, who happened to have been in the biggest TV show in the world at that point. Of course, David had form with the bard, and Catherine's always been great at bickering, so it's not like artistic compromises were taken in order to get them to appear in Shakespeare's tale of complicated love. And it was a critical hit as well as a financial one. So who's complaining?
Daniel Radcliffe and Richard Griffiths: Equus

Another theatrical presentation that was slightly overshadowed by what had gone before, although this was slightly less about the giddy thrill of seeing Uncle Vernon and Harry Potter appear to get along well after all, and more to do with the newspaper headlines about Daniel Radcliffe taking his clothes off and, erm, really enjoying the company of horses, shall we say. Definitely a jarring jump from one reality to another.  
Benedict Cumberbatch and Jonny Lee Miller: Frankenstein
A production, directed by Danny Boyle for the National Theatre, in which Sherlock and Sherlock took turns at being Dr Frankenstein and his most celebrated creation.  Not during the same show, you understand, they just swapped over between performances.
Matt Smith and Arthur Darvill: Swimming With Sharks
This happened way back in 2007, years before the name Amy Pond was even thought up. Although there's no doubt that some of the playful and uneasy chemistry between Matt's Doctor and Arthur's Rory came from the fact that both actors had worked together before, and are friends. As evidenced by this little anecdote, told at last year's Doctor Who convention:
You'd give two arms and a spleen to have been there, right?
Ben Whishaw and Judi Dench: Peter and Alice
This is still on! At the Noel Coward Theater in Leicester Square. Although the sight of James Bond's Q and M (respectively) acting out a fascinating tale in which the original Alice In Wonderland meets the original Peter Pan at a 1932 exhibition of Lewis Carroll's work has proven to be such a hit, tickets are proving very hard to come by.
Does that make it better or worse? Ah well, it's in London anyway. We'll be OK, we've got TV!
Read More
Filed Under: