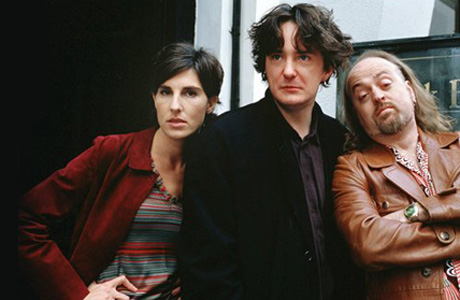 We've been highlighting popular British TV shows currently on-air in the U.K. with our series What Are Brits Watching? You've been asking, "What about the U.S.?" and we've been listening. The new shows aren't available here just yet, but there are plenty of British shows streaming online:
1. Black Books
In this TV show, Bernard Black (Dylan Moran) owns a bookstore, but he's more keen on hanging out with his friends than helping customers, resigning to using a bullhorn to announce to shoppers that the store is closed. His gal pal Fran Katzenjammer (Tamsin Greig) has a shop next door, making it even more tempting to close up early. His handy dandy assistant (Bill Bailey) isn't much help either. Check out the trailer below:
2. Rev.
Yup, "Rev." is short for "reverend," as in the Church of England. The series follows Reverend Adam Smallbone (Tom Hollander), a young Anglican priest, who recently moved from a small rural parish to East London. Smallbone is unable to turn anyone away, including social climbers using the church to get their children into elitist schools. He's come up with a "test" for such parents, as seen in the clip below:
3. Come Fly With Me
Little Britain stars Matt Lucas and David Walliams wrote and starred in this mockumentary, spoofing British airline documentaries, revolving around the chaotic activity that accompanies air travel. The duo play multiple characters portraying airline staff and passengers. Check out the trailer below:
Come Fly With Me on Netflix (First month is free!)
4. Pulling
This rom-com follows three women in their '30s are living their lives with no apologies, even if they're expected to have everything figured out by now. In the clip below, appropriately called 'Drunk and Single', newly single Donna (Sharon Horgan) isn't enjoying the pub scene. Her ex shows up, and she can't hide how relieved she is. She doesn't want to drink beer and "have fun"; she'd rather be at home. Watch the clip below:
5. Spaced
Before there was Shaun of the Dead and Hot Fuzz there was Spaced, co-written by Simon Pegg and Jessica Stevenson and directed by Edgar Wright. Pegg plays the usual hapless chump who is secretly, or not-so-secretly, in-like with his female roommate (Stevenson). Their strained relationship sets the stage for all the other antics that go on in the building. Check out the trailer below:
What's on your watch list?
Read More
Filed Under: