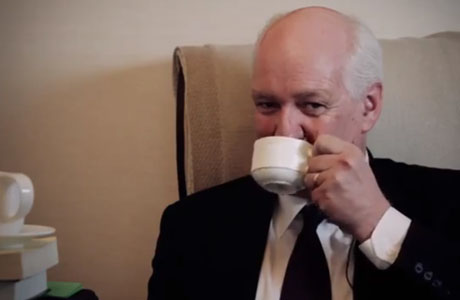 Hey gang at Downton Abbey, let's put on a show.
That was the impetus for the latest video spoof of the hit British TV show.  In the 10-minute parody, a group of Broadway performers, including Tony winner Randy Graff and Smash's Jeremy Jordan, perform in an all-musical episode that supposedly will kick off Downton Abbey's upcoming fourth season.
Scottish-born comedian Colin Andrew Mochrie, who starred on both the British and American versions of the Whose Line Is It Anyway? TV series, appears as Downton creator-writer Julian Fellowes. He narrates and comments on the action, aiming particular venom at Dan Stevens, whose Matthew Crawley character–spoiler ahead!–was killed off at the end of Season Three because the actor wanted off the show at the end of his contract.
The parody video was staged and shot at Manhattan's 54 Below, a nightclub in the basement of the old Studio 54 hot spot. Its stage regularly features Broadway stars and performers in cabaret acts.
Highlights of the Downton musical spoof include Mrs. Hughes (Randy Graff) touting the marvels of a tea bag, Thomas (Matt Doyle) managing to hit what Mochrie's Fellowes describes as "the gay notes," and Mrs. Patmore (Mary Stout) revealing that she would love to let loose her inner Mrs. Lovett, the Sweeney Todd character who regularly baked dead cats and humans into her pies.
Take a look:
What's your favorite part?
Read More
Filed Under: