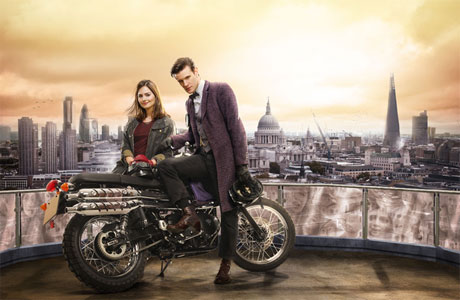 Hands up who's been a little more careful about their wi-fi connections recently? Everyone? Good.
So, The Bells of Saint John arrived on Saturday (here's our recap, which is riddled with spoilers for obvious reasons, and our live-blog of highlights, and achieved the kind of blanket coverage for which the term blanket coverage is, for once, entirely apt.
Here are just a fraction of the reactions (via EntertainmentWise), plus a few exciting news items and features we've found along the way, starting with the biggest and best news of all:
• David Tennant and Billie Piper have been officially confirmed for the Doctor Who 50th anniversary special. It remains to be seen if this means the Doctor will meet a back-in-time version of himself, travel to that alternative dimension where there's a human Doctor living with Rose Tyler, or something else entirely. But if expectations weren't sky-high already, they are now.
And that's before we even factor in John Hurt and Gavin and Stacey's Joanna Page, who posed with Matt, David, and Jenna-Louise Coleman at the first read-through yesterday (April 1):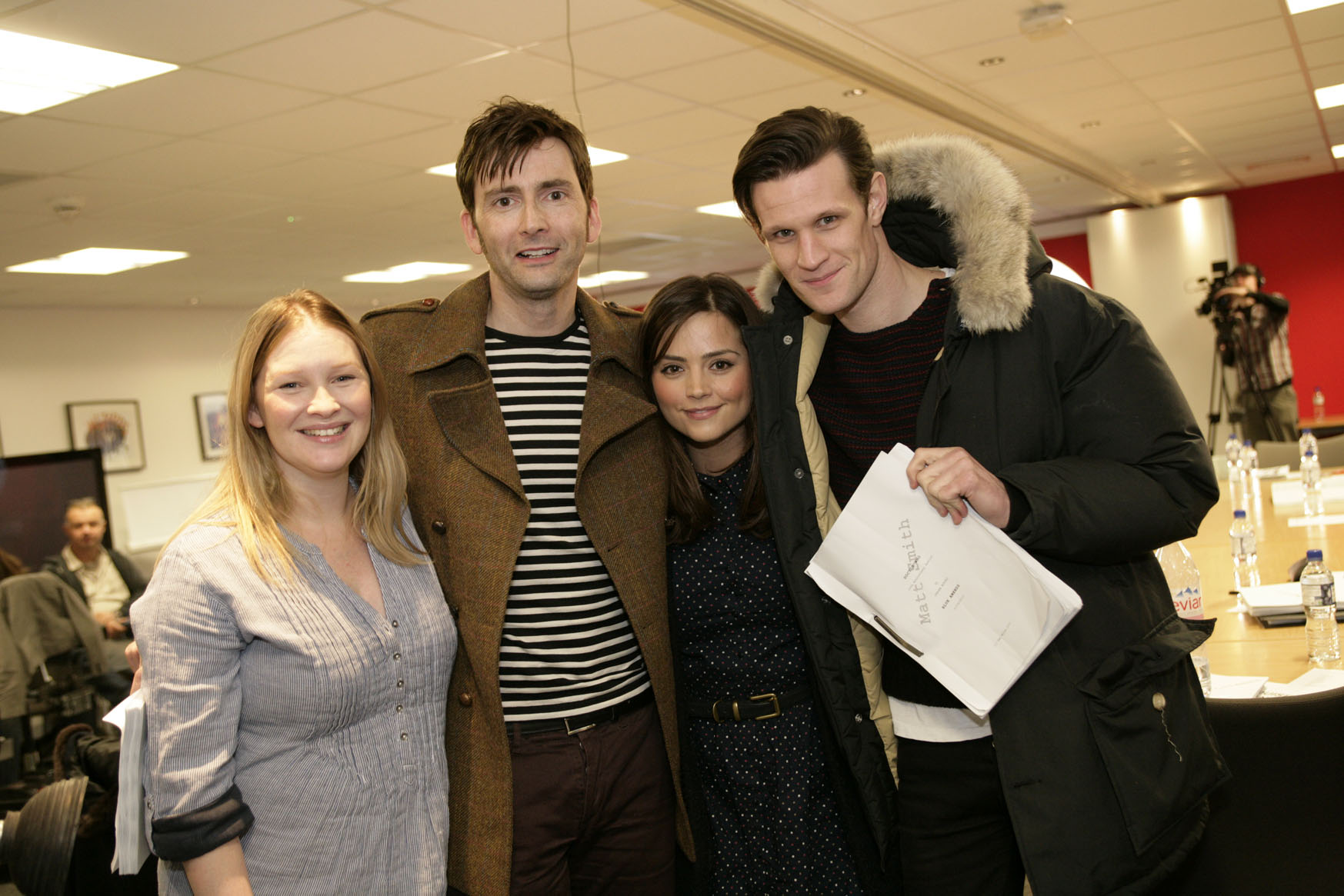 And then there is this from yesterday's read-through: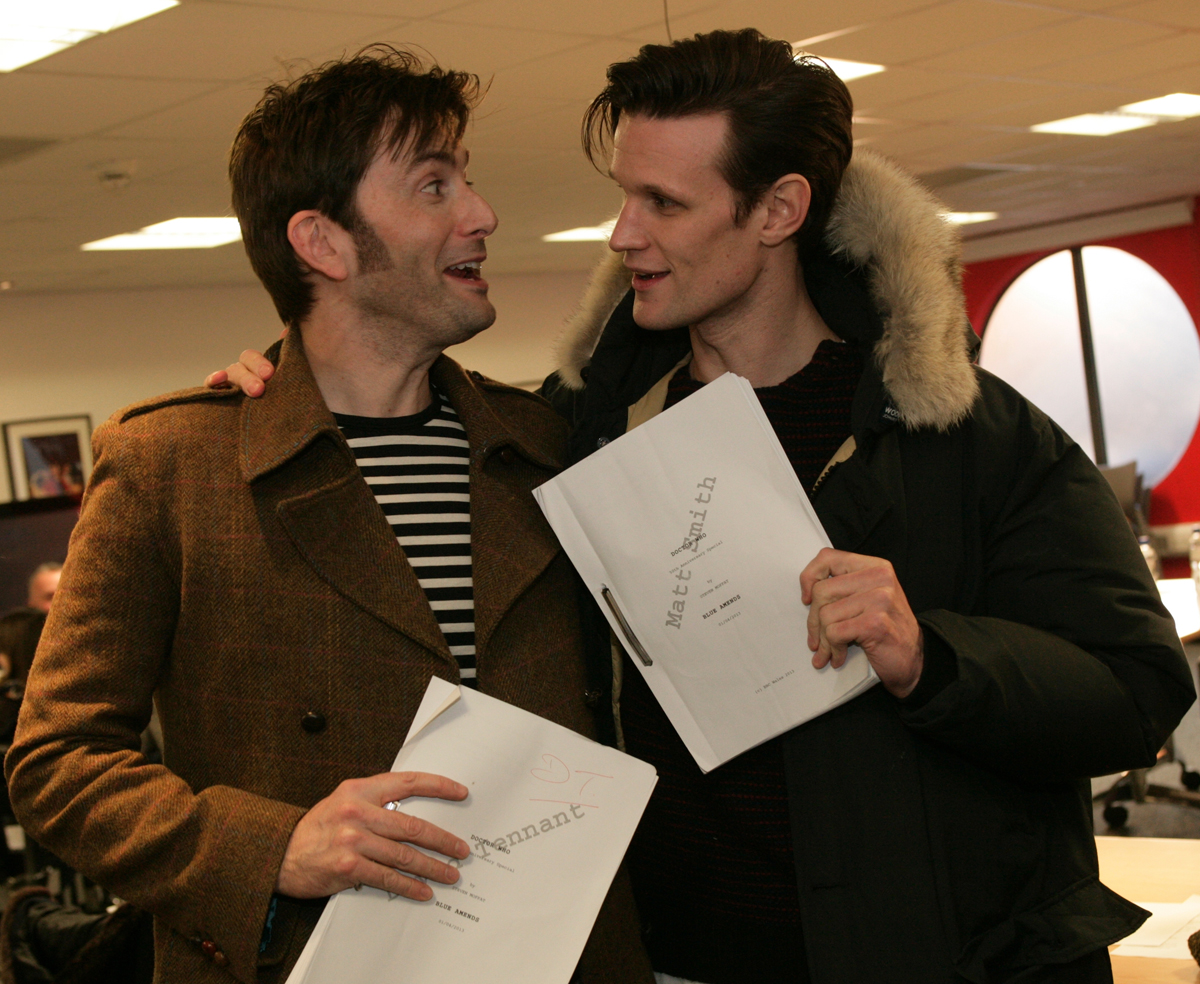 And just announced today: we can confirm that the Zygons will be returning for the 50th anniversary special. The BBC notes that "aside from flashbacks these malevolent shape-shifters have only appeared once before, threatening Earth in the Fourth Doctor adventure, "Terror of the Zygons." Despite the fact that their solitary outing was over thirty years ago they remain a popular old enemy and in the 2010 episode, "The Pandorica Opens," they were amongst the massed aliens said to be gathering above Stonehenge. Later, in "The Power of Three," we learnt that Zygons had one of their ships under the Savoy Hotel in 1890 and apparently replaced half the staff with imposters! But this time they really are back…"
The BBC released this snap along with their announcement. Check out our full monster profile of the Zygons in our Rogues Gallery.


• Here's the trailer for next week's adventure, The Rings Of Akhaten, airing Saturday at 8/7c on BBC AMERICA:
• Huge congratulations are due to everyone on the production team, as Doctor Who has won a Peabody Award, one of the highest honors in television.
The Peabody panel wrote:  "Seemingly immortal, 50-years-old and still running, this engaging, imaginative sci-fi/fantasy series is awarded an Institutional Peabody for evolving with technology and the times like nothing else in the known television universe."
• Here's the official backstage clip from The Bells of Saint John:
• And did you notice the author of this book?
Well BBC Books are releasing Doctor Who: Summer Falls this Thursday (April 4). Here's the synopsis:
"In the seaside village of Watchcombe, young Kate is determined to make the most of her last week of summer holiday. But when she discovers a mysterious painting entitled 'The Lord of Winter' in a charity shop, it leads her on an adventure she never could have planned. Kate soon realises the old seascape, painted long ago by an eccentric local artist, is actually a puzzle. And with the help of some bizarre new acquaintances – including a museum curator's magical cat, a miserable neighbour, and a lonely boy – she plans on solving it.
And then, one morning Kate wakes up to a world changed forever. For the Lord of Winter is coming – and Kate has a very important decision to make."
• One last behind-the-scenes moment, BBC AMERICA's Inside Look:
Also, here's a great interview in which Jenna very quickly discusses Season 7 with The Hollywood Reporter:
Jenna's everywhere these days: here she is chatting with Chris Hardwick and Matt Mira on their Nerdist podcast. They muse on bad first dates, favorite TV shows on both sides of the Atlantic, and, of course, Jenna's role as Clara, the Doctor's new companion.
Now, where were we in time? Oh yes! Easter! Did you see the Whovian Easter Eggs?
Outstanding work, well done everyone.
Here's a bit more news:
• If you're like us, Doctor Who fans, you have trouble keeping up with all of the conversations happening around the show on Facebook, Twitter, and the gazillion other platforms out there. Enter Check out BBC AMERICA's newly launched RebelMouse page, which aggregates all of the Whovian chatter (and that of BBC AMERICA's other Supernatural Saturday shows) in one place.
• io9 have compiled a list of 50 great 'Doctor-ish' moments from 50 years of Doctor Who. It includes this very telling Third Doctor quote from "The Time Warrior," in answer to Sarah Jane Smith's incredulous "Are you serious?"
"About what I do, yes. But not necessarily the way I do it."
• Speaking of Three, in our continuing monthly appraisal of each regeneration, we had a look at the Third Doctor, Jon Pertwee, and concluded that he played the role like a dignified (but slightly pompous) scientist with a sideline in martial arts.
• Mark Gatiss discusses the return of the Ice Warriors in the forthcoming Cold War (via the Doctor Who website):
"The Ice Warriors are back where they belong and I'm absolutely thrilled! Whilst absolutely respecting the source, the source has huge gaps in which you can invent. I was talking to a couple of members of the crew, and they had no idea the Ice Warriors were an old monster. It's very powerful. You don't need to know they first appeared in the '60s."
• Hats off to the Guardian, who've been grappling with the thorny problem of making an easy-to-read data visualization of the list of Doctor Who monsters to date. It's every bit as hard as it sounds.
• If anyone was confused by the moment when one of the computer operatives in the Shard, while trying to find the TARDIS and track down the Doctor and Clara, said "Are we sure this time? Earl's Court was an embarrassment," this might help clear things up.
• The Creative Bloq design blog has come up with their definitive list of the five greatest Dalek designs of all time.
• Having welcomed Clara Oswald into the TARDIS, we asked the all-important question: what do you have to DO to be the Doctor's traveling companion in the first place? 
• A "dead-gorgeous" Karen Gillan has undergone a zombie makeover for Saturday's (April 6) Walking Dead-inspired episode of The Nerdist, airing at 10/9c on BBC AMERICA. Check out her "undead" transformation in video.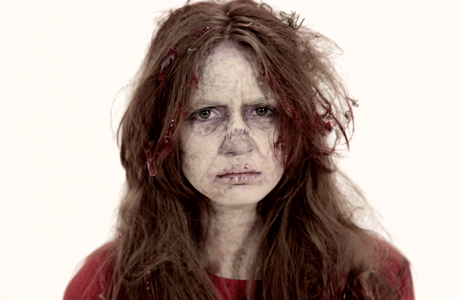 • The Sunday Mirror ran a delightful gallery of archive pictures from the last 50 years of Doctor Who, including a shot of William Hartnell putting his First Doctor wig on. Don't look if you wish to avoid letting daylight in on magic.
And to go out with a suitable flourish, here's the Doctor Who theme played on Tesla coils at the 2013 Engineering Open House day at the University of Illinois Urbana-Champaign:
TTFN!
Read More
Filed Under: