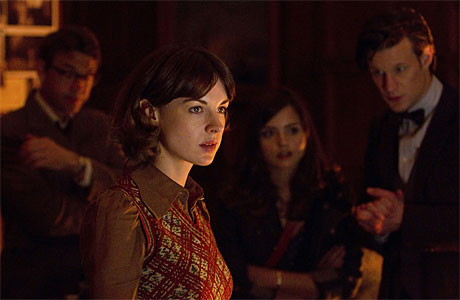 Before we get into next week's horrifying journey into the unknown (and it really is), there's a little unfinished business with that Ice Warrior still to deal with.
For example, would you like to go into the sub for a behind-the-scenes look at "Cold War"?
Now, to "Hide," a ghostly tale of psychics and professors guest starring Call the Midwife actress Jessica Raine and Dougray Scott. (But don't just take my word for it, here's Steven Moffat's version of events, and here is Jessica Raine's).
Here are two trailers, starting with BBC AMERICA's:
And of course the classic "next time" trailer:
Here's what else is going on in space and time this week:
• Have you played Doctor Who Clock Quest yet? Best hurry up, time is running out (literally).
• Matt Smith would like to have dinner with Jennifer Lawrence from The Hunger Games.
• Matt has launched a campaign to get Peter Jackson booked to direct an episode of Doctor Who, and former Doctors Colin Baker, Sylvester McCoy, and Paul McGann have offered their backing as well, reports Blastr. (McCoy notably worked with Jackson on The Hobbit.)
A big-time Whovian, Jackson previously expressed interest in directing a Who episode, meeting with head honcho Steven Moffat and telling Entertainment Weekly that "they don't even have to pay me."
• Here's a still from the new, part-animated version of the Second Doctor adventure The Ice Warriors, which is being released on this summer. More details as to the contents and special features of the DVDs are available here.
• Fresh from the success of Broadchurch (premiering on BBC AMERICA later this year), David Tennant is appearing in a new BBC drama, alongside Emily Watson, called The Politician's Husband. Details and a trailer here.
• Radio Times ran an interesting feature on the Doctor Who monsters that look like other monsters.
• And a feature about Matt Smith's directorial debut, Cargese.
• Did you see this little clip from the London 50th Anniversary shoot? Anyone else think Strax should get his own series?
• Look! A TARDIS that can actually FLY!
• Speaking of which, Jenna-Louise Coleman reveals that Clara and the TARDIS are on a collision course, telling the Radio Times: "The TARDIS and Clara have a relationship. It's something that's running through the series. Instead of it being like, 'Does so-and-so like Clara?', the TARDIS and Clara have a bit of a face-off."
• And she also teases Clara's birthday being on November 23, and how this is setting the stage for an astonishing series finale, leading towards and even more astonishing 50th Anniversary show.
• The Modern-day incarnation of Clara 'Oswin' Oswald has been with us for three stories now and she hasn't died once, so it feels like a safe time to welcome her with a Companions roundup, in which we list the bulk of things we know about all three of her so far. Of course, she's a mystery, so we'll probably have to revise this soon, but, y'know… spoilers…
• Of course, some people – looking at you, Luciana Jessica Malfoy – can't help but speculate…
• Planning on visiting Edinburgh during the festival this year? You may want to see the Doctor Who musical, the creators of which are calling "an unauthorized Whosical parody"
• Or you may wish to visit Manchester, where Alex Kingston is playing Lady Macbeth opposite Kenneth Branagh.
• A Dalek reads a love poem. Because genetically-engineered hate boogers in massive pepperpots have feelings too:
• An unofficial note for next week's Impossible Astronaut Day.
• And while we're in the craft zone, check out Dustin White's cat TARDIS!
• Wouldn't it be interesting if Doctor Who mixed it up with Sherlock and Supernatural and became a comic?
Oh wait, it has actually happened! Take a look at SuperWhoLock, a Tumblr labor of love from a New York-based writer named Alanna.
• Fancy a pat on the back, Whovians? Then read U.K. Buzzfeed's Twenty-Six Reasons Doctor Who Fans Are The Best, and then salute its writer, Ailbhe Malone.
• For the 50th anniversary, the BBC AMERICA Shop has announced the release of limited edition, sterling silver Doctor Who dog tags, which are now available for pre-order. When they say "limited edition," they mean it: only 2,000 sets will be produced.
• Let's go out with one last piece of fan art. Hats off to graphic designer Benjamin Parker for coming up with this, a fan's-eye logo for the 50th anniversary:
TTFN!
Read More
Filed Under: