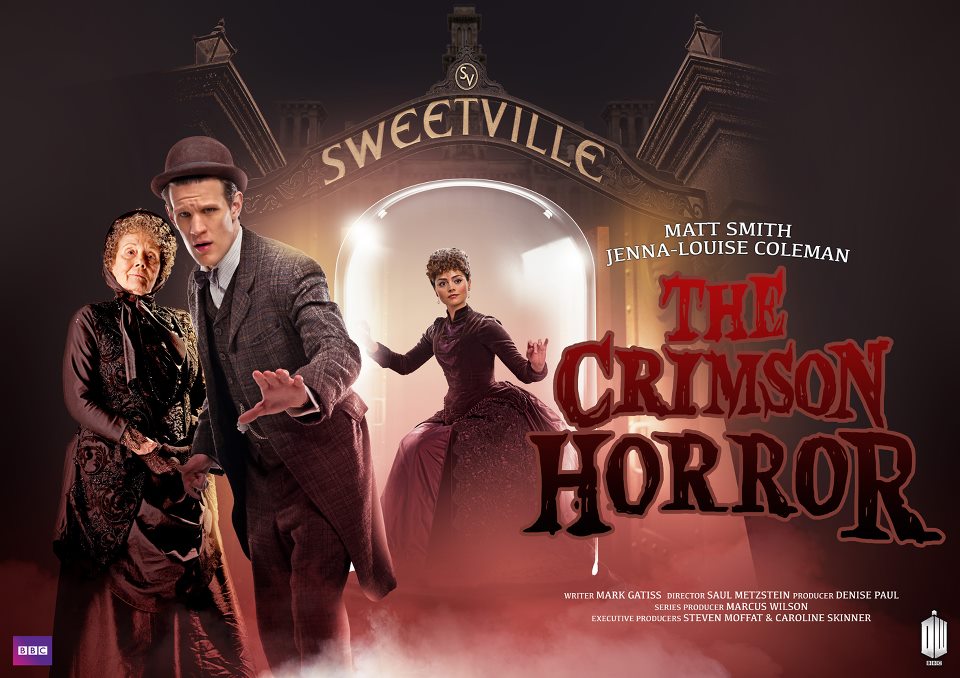 So THAT'S what the middle of the TARDIS is like! There's a stately home in there! And a library, and some corridors, and a quarry… oh and an exploding star. Talk about all mod cons!
Yup, this week, we're back from the center of the TARDIS, and here's the behind the scenes report:
And here's our recap of events. Clearly you do not want to watch this if you haven't seen it yet, as it will ruin everything.
And here's our list of 10 great TARDIS moments from Doctor Who history.
But of course, there's another adventure on the way, this Saturday at 8/7c on BBC AMERICA. This week the Doctor will do battle with Dame Diana Rigg and her daughter Rachael Stirling in "The Crimson Horror." Mark Gatiss sets the scene very well, in an interview he gave to the Radio Times:
"I'd already started work on a story about one of those idealized Victorian mill communities and tailored it to suit Diana and Rachael. I wanted to do a properly northern Who – it's underexplored in the show – and Diana used her native Doncaster accent for the first time!
"I wanted the adventure to feel very distinctive and it really does. A lurid, Victorian penny-dreadful with Vastra, Jenny and Strax and 'orrible murder. It's very me!"
Here's Dame Diana discussing the role over the weekend, with a little bit of a clip:
And here's the BBC AMERICA trailer:
Here's what else has been going on in space and time this week:
• BBC Cymru Wales has announced Brian Minchin as the new executive producer for the series. He has tons of Whovian credentials.
• According to some sections of the press, a Conservative Think Tank has concluded that the British streets would be safer if there was an easily accessible way to get hold of the police in a hurry. Some kind of box, perhaps, with a light on top, and maybe a digital link-up to local police services. And maybe it could be colored blue, because that's the police color.
Hang on, where have we seen something like that before?
• Did you see Karen Gillan on Craig Ferguson last week? Always a delight:
• Den of Geek have put together a list of the 25 Doctor Who stories that they feel deserve more credit than they get. It's a fascinating list, and some of your secret favorites may well be on it.
• Steven Moffat is already trailing ahead to the grand finale of this season, The Name Of The Doctor. He told Digital Spy:
"Having brought back two of the classics, the Ice Warriors and the Cybermen, this year we wanted a brand new monster to create chills in the finale. And the thought of stylish, whispering, almost faceless creatures was an idea that firstly scared me and that I thought would work well in an episode that looks forward and back."
"It's full of surprises and questions that have never been answered in the history of Who, including the Doctor's greatest secret. We'll also find out what makes his new companion so impossible, and there's a surprise that no one has got right so far.
"All I can say is that Clara hasn't just met the Doctor three times before."
• This is adorable! Nerdist interviews fans, in cosplay, talking about their love of Doctor Who at Gallifrey One:
• Speaking of Clara, it seems her alter-ego, Jenna-Louise Coleman hasn't noticed much of a change in her public profile since joining Doctor Who. She told the Express: "I haven't received a single love letter or marriage proposal since I joined! It might change but so far people don't really recognize me. I think it's because I'm short, whereas Matt is tall and has a distinctive walk so he's easy to spot."
• On Sunday, BBC AMERICA broadcast a special devoted to Tom Baker, the Fourth Doctor:
• And here's our own tribute to the great man. He consolidated a whole heap of Doctor Who's whimsical ideas and made them iconic.
• WhatCulture have their own Doctor tribute going, with a strongly-argued feature claiming that the Second Doctor – Patrick Troughton – is the best Doctor of all.
• Oh and five reasons why River Song deserves her own spin-off.
• Whereas Buzzfeed has gone in hard, with eleven reasons why Matt Smith is cooler than you.
• And then upping their own ante with 23 gifts David Tennant has given us.
• The BBC are releasing a special book and DVD set, entitled Doctor Who: Regeneration, which is devoted to the stories around the nine regenerations we've seen (we haven't see the Eighth Doctor become the Ninth). Here are the details.
• Tea time! If you ever run out of Jammie Dodgers, how about a plate of these? Yes, these cookies almost look too good to eat, but that's why photography was invented: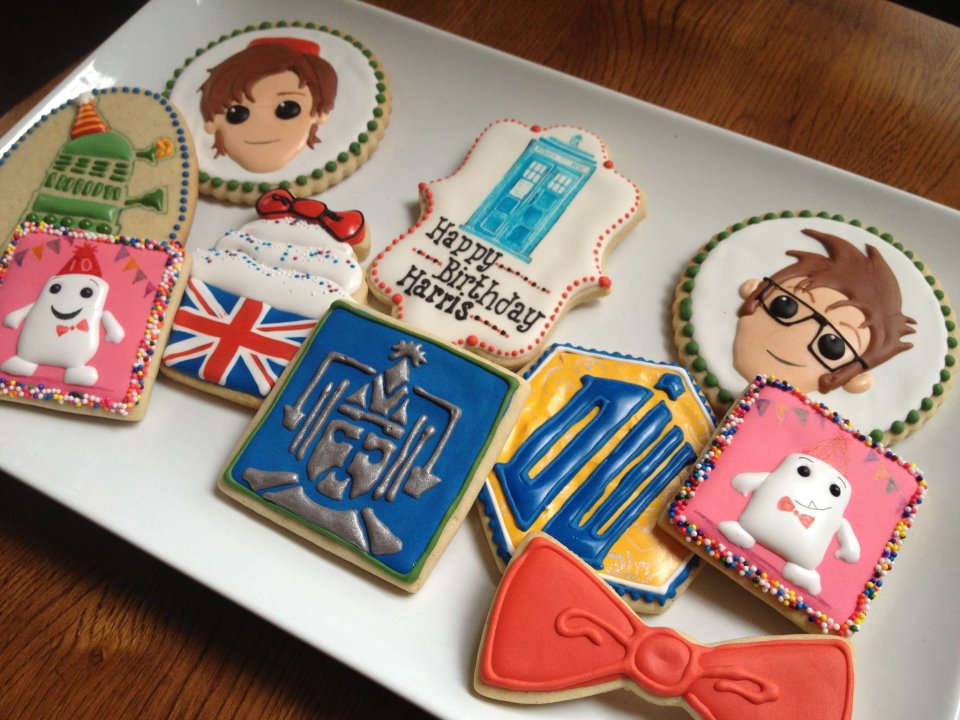 • Matt Smith's alma mater is very proud of him. Take a look at how the University of East Anglia pays tribute to their Whovian alumnus in this newspaper ad: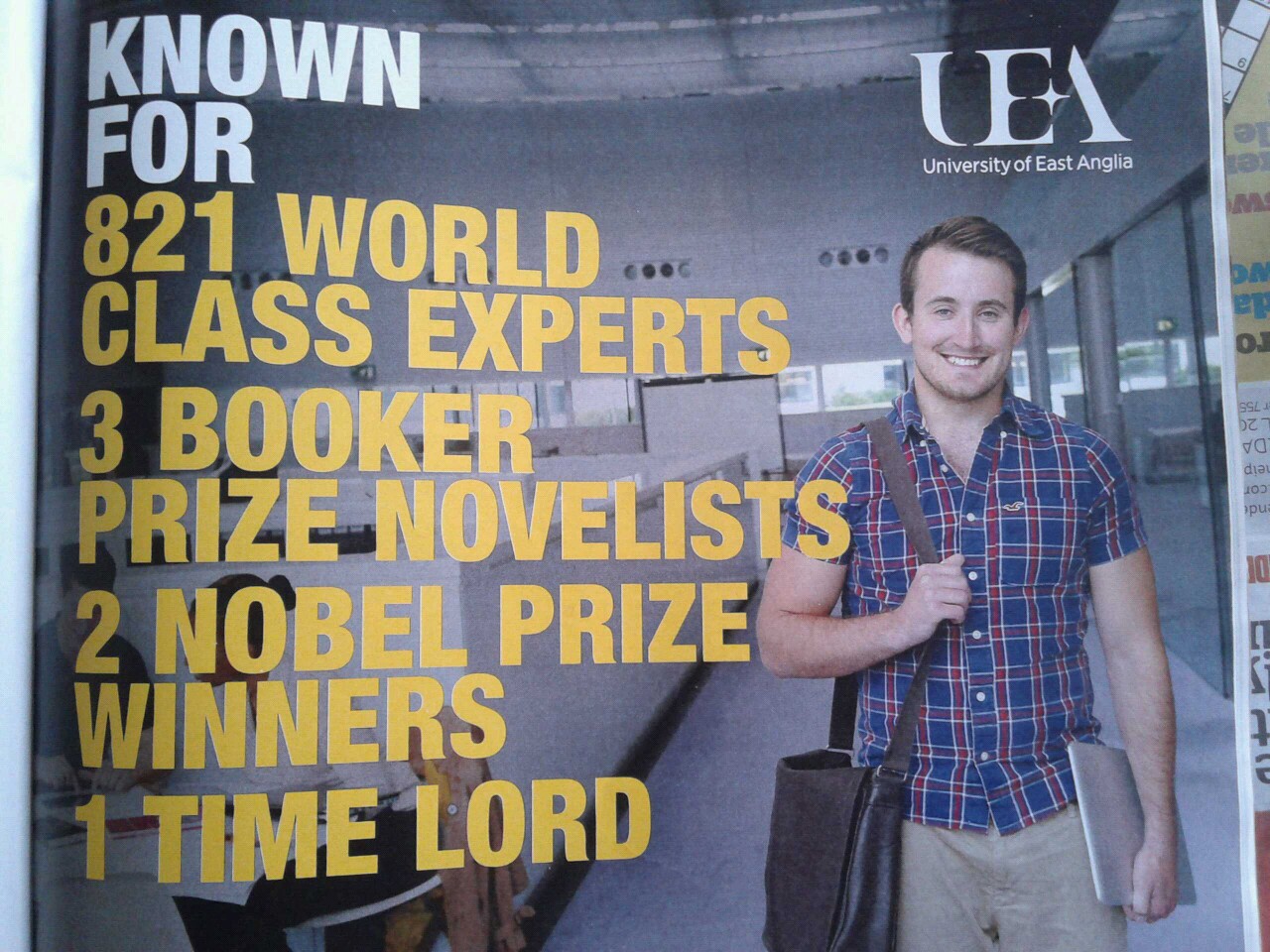 Let's end with with a massive round of applause. This might be the finest piece of cosplay the universe has ever seen. Hats firmly off, everyone (and yes, that includes fezzes), for Madraver:
TTFN!
Read More
Filed Under: