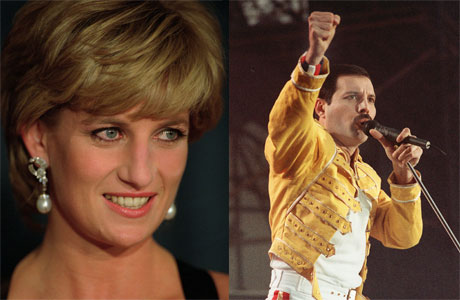 Here's a delightful story that emerged over the weekend, which is the only reason we can be reasonably sure it's not an April Fool's Day gag.
Allow us to introduce you to Cleo Rocos. Cleo was a TV comedienne who worked with the anarchic British TV comic Kenny Everett, and became a close friend of his, and Queen frontman Freddie Mercury's. Cleo has just released her autobiography, which has been serialised in the Sunday Times, and there's one particularly astonishing anecdote that's been flabbering the ghasts of almost everyone that comes across it, which, bearing in mind the flamboyance of the people in Cleo's life, is really saying something.
On night, through a series of circumstances we can only dream of, Princess Diana was having a chat with Freddie, and he managed to convince her to go out for a drink at the Royal Vauxhall Tavern, home of many a gay night then and now. And to overcome the problem of being recognised, she dressed up as a regular, in an army coat, leather cap and some of Freddie's mirrored aviator shades.
Cleo takes up the tale just as Diana has put the finishing touches to her outfit: "Scrutinising her in the half light we decided that the most famous icon of the modern world might just – just – pass for a rather eccentrically dressed gay male model.
"The place was full. It took an absolute eon to edge our way to the bar, with person after person cheerfully greeting us. It was fabulously outrageous and so bizarrely exciting. Our hearts pounded with every new leather-clad hairy body that approached, but no one, absolutely no-one, recognised Diana.
"On we inched, through the leather throngs and thongs, until finally we reached the bar. We were nudging each other like naughty schoolchildren. Diana and Freddie were giggling, but she did order a white wine and a beer. Once the transaction was completed, we looked at one another, united in our triumphant quest. We did it!
"Never has going to a bar been quite so exhilarating and fun. We then made a swift exit, a cab was hailed and we whisked Diana back to Kensington Palace. The jolly queens queuing outside unknowingly waved back as their 'queen of hearts' waved goodbye. Not a single person ever found us out."
Amazing.
And, according to the Dr Feelgood documentary Oil City Confidential, this wasn't the Princess's only foray into the sweatier end of London nightlife. Way back in the mid '70s, when she was just Lady Diana Spencer, she was sometimes spotted attending  Feelgood gigs, during their early residency in her local pub in Kensington.
Read More
Filed Under: