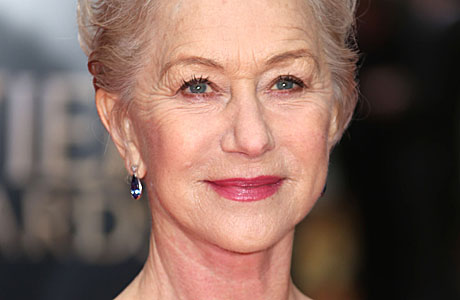 Last night, Dame Helen Mirren was officially named the best actress of the year, at the 2013 Laurence Olivier awards.
The Oliviers are, depending on your point of view, the UK equivalent of the Tony awards, or the theatre equivalent of the BAFTAs. They may even be the theatrical equivalent of the Grammys, but no one has run the tests. Last nights ceremony was hosted by Hugh Bonneville and Sheridan Smith.
Dame Helen won for her second performance as the Queen, in the play The Audience, and in her speech, Dame Helen was quick to credit the British monarch for her part in proceedings. 
She said the Queen had delivered "the most consistent and committed performance of the 20th Century, and probably the 21st Century."
There again, no one has seen Her Majesty doing Dame Helen Mirren, so it's probably fair that the award stays where it is.
Helen's co-star Richard McCabe also won an award – best supporting actor – for his part as the British Prime Minister Harold Wilson, and he credited his leading lady with raising everyone's game, saying: "It's important as an actor to be absolutely fearless and she is."
http://www.youtube.com/watch?v=l9K4KOa9cr0
Other award winners of the night included the adaptation of Mark Haddon's book The Curious Incident of the Dog in the Night-Time, which won seven awards – including best play, and best actor for its star, Luke Treadaway – this haul equals the record set by Matilda in 2012. 
And Imelda Staunton and co-star Michael Ball were named best actress and actor in a musical for their parts in Sweeney Todd, the macabre tale of the demon barber of Fleet Street and his pie-making cohort.
A full list of 2013 winners can be found on the Olivier Awards website.
Read More
Filed Under: