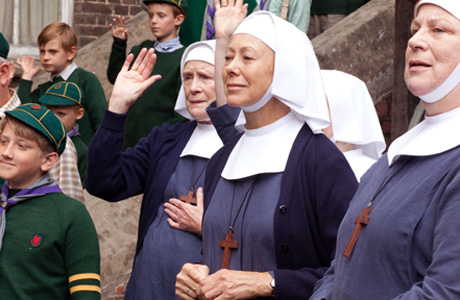 In the second episode of Season 2 of Call the Midwife, Chummy gets a mission, Cynthia's confidence is shaken and Jenny's heart is bruised.
The show opens to the lush, romantic strains of "You Are My Special Angel" on the soundtrack as Chummy (Miranda Hart) and Peter (Ben Caplan), her policeman husband, dance to the tune late one night in their apartment while clad in pajamas and robes.
It seems that the letter she sent off at the end of the previous episode, in which Chummy answered an ad in Church Times for a missionary posting in Sierra Leone, has borne fruit. Chummy is soon to go off to Manchester to train for a short-term assignment in Africa.
"Swan in and swan out, that's what you girls do these days," harrumphs the curmudgeonly Sister Evangelina (Pam Ferris) of Chummy's plans.
"I have to do it now before the pitter patter of little feet or, if they take after me, the pitter patter of huge feet," wisecracks the towering Chummy.
Once she departs, Trixie (Helen George) naughtily jokes to Jenny (Jessica Raine), "Chummy is off in Manchester learning those missionary positions."
Cynthia (Bryony Hannah), the meek young midwife who lives at Nonnatus House alongside Jenny, Trixie and the midwife nuns, helps Irene Kelly deliver her first child, a son. Her husband, an Irishman, takes his infant son in his arms and tells him softly, "May you never want for anything."
In this week's comic subplot involving elderly Sister Monica Joan (Judy Parfitt), we learn that she is regularly taking taxies–a strain on the Nonnatus House budget–to visit with her nephew.
In between delivering babies and tending to expectant mothers, Jenny runs into Jimmy (George Rainsford), the fledgling architect from back home who had a crush on her in Season One. They have a friendly conversation and, at its end, he says, "Perhaps we'll bump into each other again."
"I'd like that," says Jenny. Clearly, she is having second thoughts about having given him the big brush-off earlier.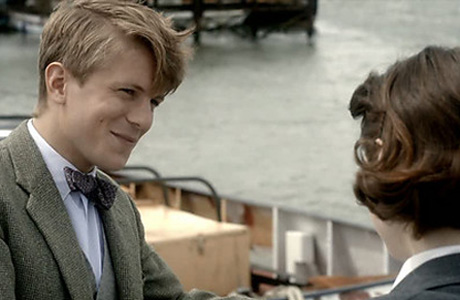 Tragedy strikes when Cynthia checks on the Kelly baby a day after his birth. She discovers the baby has turned a worrisome blue color; it then stops breathing and dies. Dr. Turner (Stephen McGann) announces there will have to be an inquiry and a post-mortem. Cynthia looks both upset and concerned. Sister Julienne (Jenny Agutter) says a prayer.
Hang on to your hat, there's going to be a second comic subplot this episode. Peter, it turns out, has signed on to be a colonial cop so that he can accompany Chummy to Sierra Leone. He's afraid he won't pass the required physical so, while Chummy is off studying in Manchester, he persuades Fred (Cliff Parisi), the jolly handyman at Nonnatus House, to help him train for the test. Fred gleefully puts a puffing and wheezing Peter through a grueling series of runs and exercises.
Jenny confides to Trixie that she's more than a little interested now in Jimmy. "He's not a boy anymore. He's rather grown into himself," she says.  The next time she runs into Jimmy, though, he mentions that he's seeing a girl at his office.
Sister Julianne tells Sister Monica she can't hop in any more taxies to visit her relatives. Sister Monica pouts in a big way and announces that she is without purpose now that she's getting on in years. Sister Julianne reconsiders and informs the older nun that she has found a little money in the budget for to pay for Sister Monica's cabs, telling her kindly, "I'm sure your family needs you as much as we do.
At the clinic, patients murmur to each when Cynthia passes and avoid being assigned to her care. Cynthia, never particularly self-confident, is fast losing faith in herself and–big no-no for midwives–abandons a patient partway through her delivery, claiming that she's too haunted by visions of the dead Kelly baby.
Cynthia is in full breakdown mode. She jumps on her bike and begins pedaling wildly through the streets of the East End, heedless of the traffic around her. When she doesn't come back to Nonnatus House, everyone goes off in search of her.
Jenny finds her, seated slumped against a wall, her bike half-wrecked beside her. "I've made such a mess of things," Cynthia wails.
Jenny tries to reassure her. "Do you really think Sister Julianne would send you out to patients if she had half a doubt? We believe in you. We need you as a nurse and a friend," she says.
The pep talk works. Cynthia perks up and gets her confidence back.  "I did everything I could and should have done," she tells Dr. Turner, referring to her time with the dead infant. She perks up even more when the results of the inquiry and post-mortem come in and she's found to be blameless. It seems the baby's lungs never fully expanded. Nothing could have been done to save the child.
Chummy is back in London a day early. She has found a letter about Peter's having to take the physical and is worried for him. "Perhaps what I took to be a calling was a dreadful case of mishearing," she tells her husband.
Peter is having none of it.  "I think you're wonderful," he tells his wife. "And I'd walk through Africa just to be at your side."
He soon passes his physical. He and Coach Fred exult.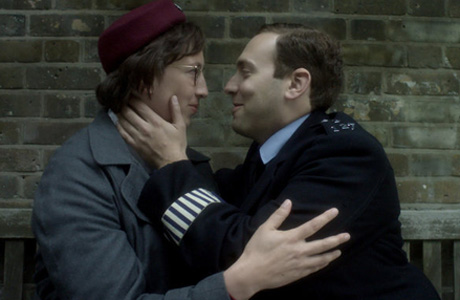 Francine, a pregnant, unmarried patient who'd shown up at the clinic earlier, pops by up again, this time showing off her new engagement ring to Jenny. Then the woman's  fiancé shows up.  Oh no, it's Jimmy. Jenny pretends, for the patient's sake, that she doesn't know him.
Later, Jimmy pops by Nonnatus House to square things with Jenny.  " Do you love her?" Jenny asks him.
"Does it make a difference?" Jimmy replies.
"It does to Francine," says Jenny.
He tells Jenny that Francine was just a bit of fun for him and that he's still in love with our midwife heroine. Jenny gives him a let's just be friends routine but Jimmy tells her that's not what he needs.  Sadly, it looks as if these two are going to be neither friends nor lovers.
When it's learned at Nonnatus House that the Kellys have no money to bury their dead son, Sister Monica, proving she's not as dotty as she pretends, generously volunteers, "We should use my taxi fund for the funeral."  Done.
Cynthia attends the funeral and is welcomed by the Kelly family. She watches in sympathy as the grieving mother tucks a swaddling blanket into the tiny casket with her son. "Keep him warm, keep him safe," the mother begs of God.
Sister Monica's relatives, including several youngsters, are visiting with her in the garden at Nonnatus House. "Did I mention that the children are fans of cream cakes?" Sister Monica, whose own sweet tooth is notorious, asks Sister Julianne.  As Sister Julianne goes off to fetch the cream cakes, Sister Monica tells her approvingly, "You are a dear."
Despite being all that's saintly and good, Sister Julianne can't help muttering under her breath, "Yes, aren't I?"
Chummy and Peter are about to leave for Africa and everyone gathers to say a fond farewell.  Chummy's Scout troop–she was their pack leader in the Christmas special–arrives at Nonnatus House to serenade her with "You're My Special Angel."  The midwives, nuns and Fred join in.   The phone rings. Cynthia answers it, saying with crisp confidence, "Nonnatus House. Midwife speaking."
As Chummy and Peter drive away, the voice of the older Jenny (Vanessa Redgrave), tells viewers, "Chummy would be back with us before the year is out. She chased her dream with courage. And oh how we loved her."
Let's hope she's back sooner than that.
Season Two, Episode 2 Preview
Which character are you liking the most this season?
Read More