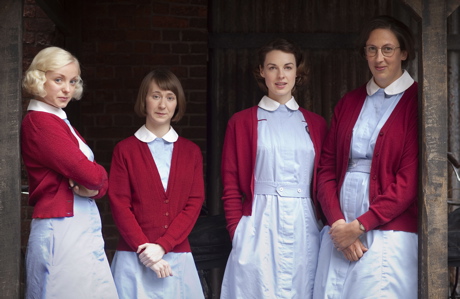 Call the Midwife, the hit British TV show about nurse-midwives tending to the poor in London's East End slums in the late 1950s, began its second season on PBS last night with an entertaining episode that brought back familiar characters and set plotlines in motion for the coming weeks.
The show, which originated on the BBC in the U.K., opens with Jenny (Jessica Raine), the show's young lead midwife, pedaling her bicycle down the cobblestone streets of the East End alongside dozens of working men as the call of factory whistles blasts in the air. Her character is based on author Jennifer Worth, whose popular trilogy of memoirs about her days as a midwife in post-Word War II London serve as the inspiration for the series.
"It seems to me, gazing back across the decades, that my journey toward womanhood began in the East End," comes the familiar voice of Vanessa Redgrave, who provides the voice for an older Jenny recalling her younger self across the decades. "Life was fueled by learning, but there was laughter too and I was forging friendships that would last all my days."
It is Jenny's birthday and the other young laywomen midwives and nuns at Nonnatus House, the Anglican religious convent where they all live, are celebrating with a cake and candles. Sister Monica Joan (Judy Parfitt), the slightly dotty elder nun, dips her finger into the cake's icing and licks the frosting off with a mischievous grin.
The laywomen, who, in addition to Jenny, include glamorous Trixie (Helen George), mousy Cynthia (Bryony Hannah), and the gangly, towering Chummy (Miranda Hart), head off to the movies together to see South Pacific (1958), one of the series' deft period touches.
Back at Nonnatus House, they're harmonizing together on the musical's "Younger than Springtime" when the phone rings, signaling that it's time for both the laywomen and the nun midwives to head off to handle various medical emergencies. As Trixie reports somewhat tardily for duty, the ever-grumpy Sister Evangelina (Pam Ferris), harrumphs, "Where would we be without Nurse Franklin bringing up the rear, like poodle in the circus?"
At this point, the show launches its two major storylines of the night. Jenny visits Molly, a patient with an abusive husband, Ritchie, of whom the battered woman is both afraid and devoted. And Trixie and Sister Evangelina answer a call to deliver a baby for a woman on board a Swedish cargo ship docked in the harbor.
As Jenny seeks to help Molly, she befriends Molly's mother, who was widowed in the war and has been kept at arm's length from her daughter and a grandchild by Molly's nasty husband, Ritchie. While the husband's away, Molly's mother and Jenny visit her. When Ritchie returns, he threatens to burn Molly with a cigarette unless both the mother-in-law and Jenny leave immediately and then he threatens them, too, for good measure. "You've seen him in action now," Molly's mum tells Jenny. Jenny tells Sister Julienne (Jenny Agutter), the head nun at Nonnatus House about Ritchie's behavior, as well as Peter (Ben Caplan), the local cop who is married to Chummy. They agree that, sadly, Molly won't file charges against her husband.
"The needs of the patient come first," Sister Julienne says.
"She needs him and, worse, she wants him," replies a frustrated Jenny.
This episode also contains a comic subplot about the introduction of gas as a form of pain relief during deliveries. Before a group of expectant mothers, Chummy demonstrates its use on herself with kindly Dr. Turner (Stephen McGann) assisting. She comes blissfully close to passing out, pronouncing the gas' effect "a thoroughly pleasant sensation."
As the episode progresses, more and more women demand gas during their deliveries. Dr. Turner is seen repeatedly fetching it from the boot – trunk to the Yanks – of his car. Sister Evangelina becomes fed up. "No more gas at home deliveries. Doctor has been prevented from seeing more than half his patients," she grouses.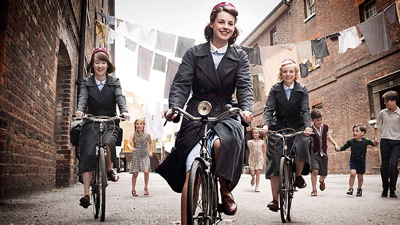 There follows a brief discussion by the laywomen midwives about how forlorn the widowed Dr. Turner looks these days, with buttons missing from his medical jacket and his young son going about appearing unkempt. "Speak more respectfully of doctor, please," scolds Sister Bernadette (Laura Main), the youngest of the nuns. Is it reading too much into her remark and longing looks cast Dr. Turner's way to suspect that she carries a torch for the good doc and may not be long for her religious order?
Likely laying the groundwork for other future plot developments, Chummy browses through the want ads in the latest issue of Church Times in her PJs. "Just reading situations vacant, for old time's sake," she tells hubby Peter as he comes to bed. "Takes me back to my otherwise entirely ghastly youth. Dreaming of Africa and the missions. There's a six months posting here to Sierra Leone. Just my cup of tea." Peter looks a bit anxious.
Possibly to divert her attention, he hands her a thick book he has been studying and asks, "Will you test me on the prostitution laws?"  Apparently, he's studying for a promotion. Chummy gives him a fond peck and asks, "Shall we begin with importuning or do you want to ring the changes in procurement?"
Over in the harbor, Trixie and Sister Evangelina are about to transfer from a rowboat to the cargo ship by climbing a swaying rope ladder. "I've never been on an ocean-going vessel in my life," confesses a scared Trixie.
"Just shake your golden curls and pretend it's the good ship lollipop," responds Sister Evangelina.
The nun heads up the rope ladder first and dislocates her shoulder when she tumbles onto the deck at the top. Trixie follows, praying to God for help. The ship's patient turns out to be Kirsten, the captain's daughter, who, at his request, has been servicing the entire crew. "My father always says there's no fighting on a ship when there's a woman they can go to for relief," she tells a horrified Trixie and Sister Evangelina.
While the injured Sister Evangelina sits in a chair and consults in between grunts of pain, Trixie handles the delivery. She proves her mettle when it gets tricky with some quick-thinking and improvised equipment. Sister Evangelina nods approvingly. Soon Kirsten is holding a healthy baby girl and the sailors, huddled outside the cabin door, cheer.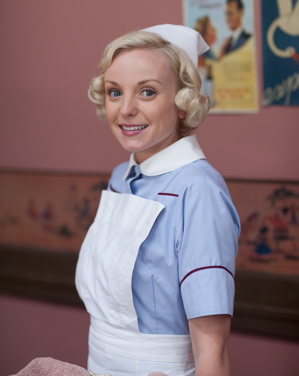 "You made the crew very happy," says Trixie.
"I always make the crew happy. It's my job," says Kirsten. Then the lonely young girl looks at her new baby and smiles contentedly. "Now I have a friend forever."
Molly's husband has gone out when her contractions begin. She brings her young daughter over to her mother's house and then Jenny helps her give birth to a baby boy at Maternity House, the newly established clinic for deliveries. In the middle of the night, the new mother, knowing that Jenny has spotted a fresh burn or bruise on her chest, sneaks out with her baby to go home.
As Trixie and Sister Evangelina leave the ship, Trixie tells off the captain. "Your exploitation of your daughter has been shameful," she scolds. On shore, Sister Evangelina is loaded into an ambulance and Trixie plops down in a seat alongside her. "Make yourself useful. Pass me the gas," the injured nun orders.
Jenny tries to visit Molly at her apartment but Ritchie won't let her inside.
"I called on Molly's flat every day, but the door was never opened," the older Jenny (Vanessa Redgrave again) recalls in a voiceover, telling us that she later learned that Molly began leaving her children behind in the apartment, dosed with milk and alcohol so they wouldn't cry, while her husband pimped her out. "We knew nothing of her actions until disaster struck," the older Jenny says, as scenes of a fire in Molly's flat show on screen and the children are rescued as young Jenny watches.  "In court the couple were both convicted of child neglect."
Trixie visits with Kirsten and her new baby on board the ship and gives her a big box of condoms, courtesy of the National Health. Kirstin thanks the midwife but says she won't need them because she's deserting ship and her comfort woman duties and going back to Sweden with her baby. "I'm a mother now," she explains.
As the show winds up, we see Dr. Taylor in the clinic looking haggard. After he hangs his white coat on a peg, Sister Bernadette fetches it and starts sewing on replacement buttons. Chummy sends off a letter in answer to the ad for a missionary in Sierra Leone. And Jenny visits with Molly's mother, who is now happily raising her grandchildren in a safe environment. "They were her second chance at love, and she was theirs," says the older Jenny in a voiceover.
——————————————
Are you glad Call the Midwife is back?
——————————————
Read More
Filed Under: