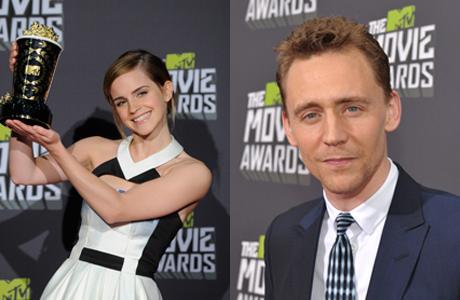 Emma Watson (The Bling Ring), Tom Hiddleston (The Avengers) and Martin Freeman (The Hobbit) were all awarded golden popcorn at the 2013 MTV Movie Awards. Watson received special recognition for her choice in roles and was awarded the Trailblazer Award based on her body of work. This is only the second year the award has been given out with last year going to Emma Stone.
In her humbled acceptance speech, Watson joked with the audience, saying, "I look back at all of the work I have done over the past 14 years and many things come to mind, notably how bad my hair was in the first Harry Potter film!"
If you'd like to see her entire speech, you can watch it below:
Tom Hiddleston, 2012 Anglophenia Fan Favorite, went home with two popcorn statues for Best Villain and Best Fight based on his performance in The Avengers. The film The Avengers itself took home Best Film.
Another fan favorite, Martin Freeman, was awarded Best Hero for his performance as the reluctant hero in The Hobbit: An Unexpected Journey. For the entire list of winners, you can go, here. Funnily, Bilbo Baggins was listed as the winner for Best Hero on the MTV website … we think that's an oversight and the award did indeed go to the actor and not the hobbit.
Perez Hilton chimed in on Freeman's win saying, "It was a bit of an upset considering he was up against Christian Bale, Mark Ruffalo, Robert Downey Jr., and Anne Hathaway in a STACKED field, but the voters went with the little dude! Who knew such a small guy would be able to take down Batman, The Hulk, Iron Man, AND Catwoman??! Pretty impressive for a hobbit!"
Freeman wasn't available to attend the event as he's in the UK currently filming season three of Sherlock with co-star Benedict Cumberbatch.
What do you think about these wins?
Read More
Filed Under: