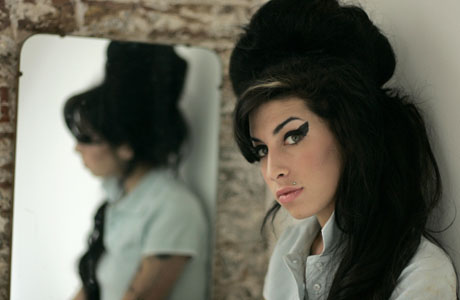 Last week a sample of The Great Gatsby soundtrack was released on YouTube, giving fans a glimpse of the music that will accompany the jazz-era film. When we looked at it, we focused on Emeli Sandé covering Beyoncé's "Crazy in Love" on the album, but Beyoncé's voice will also be heard on it. She and Andre 3000 covered the late Amy Winehouse's "Back to Black" for the star-studded soundtrack.
This weekend Mark Ronson, who produced the original track with Winehouse, played the cover for the first time on his show Authentic S*** for East Village Radio. Prior to this, fans only got a taste of the song in one of The Great Gatsby trailers. Many fans have since picked up the song, spreading it across the Internet. Despite East Village Radio's constant tags throughout the song, listeners still get a very clear idea of the song. Below is the audio rip for Beyoncé and Andre 3000's cover.
On his show, Ronson is quoted as saying that he is "flattered and honored" by the cover, thinking it is a "wonderful take" on the song. He went on to say that he believes Amy would agree with him. While Ronson is favorable of the cover, Winehouse's father, Mitch, is not.
Before Ronson played the song on his show, Winehouse told The Daily Mail that he didn't think Beyoncé "brings anything to it." After the release of the full song, though, Winehouse backpedaled a bit on his statement. While he did not take back his sentiment towards Beyoncé, he tweeted that Andre 3000 did a terrible job and should have left it to Beyoncé.
I just heard the Andre part of Back to Black. Terrible. He should have let Beyonce do it all. Mitch

— mitch winehouse (@mitchwinehouse) April 27, 2013
When "Back to Black" was released as a single in 2007, it brought a blues/jazz infused sound to the radio. Winehouse helped to make this sound popular again. Already being a jazz-type song, "Back to Black" was a perfect choice for the soundtrack whether it was to be covered or not. Listen to the original below:
How do you think the cover compares to the original?
Read More
Filed Under: