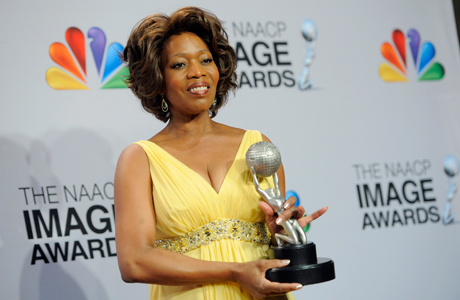 A face familiar to film and TV viewers is set to join the denizens of Five Points: BBC AMERICA and Cineflix Studios have announced today (April 11) that Alfre Woodard will guest star on the upcoming second season of Copper, which will premiere Sunday, June 23 at 10/9c. In the original drama, set in Civil War-era New York City, Woodard will play Hattie Lemaster, a former slave who arrives in Five Points and finds it difficult to reconcile her past with her newfound freedom.
Seen most recently in Lifetime's much-watched adaptation of Steel Magnolias, Woodard is one of the most decorated actresses of the small and big screen, with four Emmys, three Screen Actors Guild awards, a Golden Globe, and an Oscar nomination to her name. (She is set to appear in director Steve McQueen's Twelve Years a Slave opposite British star Chiwetel Ejiofor, BBC AMERICA favorite Michael Fassbender, and Brad Pitt.) On the list of Copper's second season cast additions, Woodard joins actors Donal Logue, Eamonn Walker, Lee Tergesen, and Andrew Howard . Here's BBC AMERICA's full press release:
There's a new face in the Five Points…BBC AMERICA and Cineflix Studios announced today that critically-acclaimed actress Alfre Woodard (Steel Magnolias, Twelve Years a Slave, True Blood) will guest star in the second season of COPPER, BBC AMERICA's highest-rated original drama set in 1860s New York City. The series returns Sunday, June 23, 10:00pm ET/PT.

COPPER is created by three-time Emmy® Award-winner Tom Fontana and Academy Award-nominee Will Rokos and executive produced by Academy Award-winner Barry Levinson, Fontana, Rokos, Cineflix Studios President Christina Wayne and Thomas Kelly (Blue Bloods).

Winner of four Emmy® Awards, three Screen Actors Guild Awards and a Golden Globe®, Academy Award-nominee, Alfre Woodard joins the cast as Hattie Lemaster, a former slave who has recently arrived to the Five Points to start anew. Jarred by raucous city life, Hattie must reconcile her past against hope for a future.

COPPER, an American saga set in 1865 New York City, returns for a second season on the brink of Lincoln's assassination – with shifts in politics and society altering the landscape for Irish immigrants and African-Americans.  At the center, Detective Kevin Corcoran (Tom Weston-Jones, MI-5) struggles to tame the wartime metropolis while wrestling with personal demons, including the betrayal of his wife and best friend.  And when Tammany Hall's outspoken General Brendan Donovan (Donal Logue, Sons of Anarchy, Terriers), returns from the Civil War to restore law and order in the Sixth Ward, loyalties will be bought and sold both uptown and in the slums of the Five Points as Corcoran, and those around him, fight to find their places in an unforgiving city.

Previously announced cast and season two guest stars include: Donal Logue, Eamonn Walker (Chicago Fire, OZ) as legendary abolitionist leader, Frederick Douglass; Lee Tergesen (Army Wives, OZ) as Philomen Keating, a wickedly intelligent criminal mastermind whose tendency for dramatic flair is offset by a penchant for brutality; and Andrew Howard (Hatfields and McCoys, Burn Notice) as James O'Rourke, the physically intimidating yet shrewdly observant manager of a budding criminal organization.

Returning cast includes Tom Weston-Jones, Kyle Schmid (Arrow, Being Human), Anastasia Griffith (Once Upon a Time, Damages) Franka Potente (American Horror Story, The Bourne Supremacy), Ato Essandoh (Django Unchained, Elementary), Kevin Ryan (Tripping Tommy, RAW), Dylan Taylor (Covert Affairs, Charlie Bartlett), Kiara Glasco (Haven, I'll Follow You Down) and Tessa Thompson (For Colored Girls, Heroes).

COPPER is a Cineflix (Copper 2) Inc. production in association with BBC AMERICA and Shaw Media. Executive producers for Cineflix include: Sherri Rufh, Sam Berliner, and Katherine Buck.  Larysa Kondracki is Co-Executive Producer/Director. COPPER is filming in Toronto, Ontario through July 2013.

 COPPER is part of BBC AMERICA's continuing commitment to drama including the channel's recently launched original sci-fi series, Orphan Black, the Peabody-winning series Doctor Who, the upcoming action-series, The Musketeers, award-winning drama, Luther, mini-series Spies of Warsaw, Broadchurch, In The Flesh and the upcoming Burton and Taylor, starring Helena Bonham-Carter and Dominic West.
Read More
Filed Under: