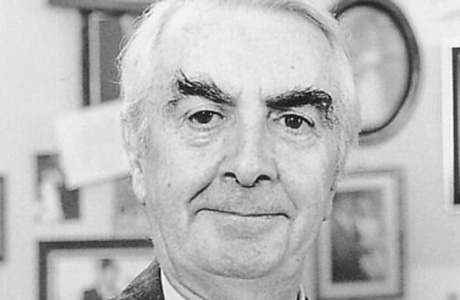 He always led with his eyebrows. Irish actor Milo O'Shea, he of the expressive, bushy, and horizontal black slashes above his twinkling dark eyes, died Tuesday, April 2 in New York at age 86.
O'Shea was born in Dublin but had made his home in the Big Apple for most of the past four decades, becoming an American citizen.
During his almost 70-year career, he did it all: theater, movies and TV.
He is best remembered on celluloid for playing Leopold Bloom in the 1967 movie version of James Joyce's Ulysses, a lustful villain who threaten Jane Fonda in Barbarella (1968), and a courtroom judge in The Verdict (1982). He also played Friar Laurence–one of his frequent forays as a man of the cloth–in director Franco Zeffirelli's lush adaptation of Romeo and Juliet (1968).
Milo O'Shea in Ulysses:
Milo O'Shea in Romeo and Juliet:
On American TV screens, he most recently portrayed Chief Justice Roy Ashland of the Supreme Court on The West Wing. He also made notable guest appearances on Cheers, The Golden Girls and Frasier. In the U.K., he starred in a hit sitcom on BBC called Me Mammy (1968-71), in which he played an Irish-born executive in London whose swinging bachelor ways were constantly being thwarted by his fusty Catholic mother. Irish playwright Hugh Leonard (Da), a longtime friend, created the series.
Milo O'Shea guest starring in Cheers:
He frequently returned to the stage, where he had gotten his start in Dublin as an actor, appearing both on Broadway (including Mass Appeal, Staircase and My Fair Lady) and the West End (Once Upon a Mattress and Corpse!).
As for those eyebrows, which invariably were mentioned anytime he was written about, O'Shea paid them no mind. "If you're thinking about your eyebrows when you're acting, you're not acting properly," he once said, according to his obituary in The New York Times.
RTE, the Irish public service broadcaster, has reported on his passing, here.
What's your favorite performance by Milo O'Shea?
Read More