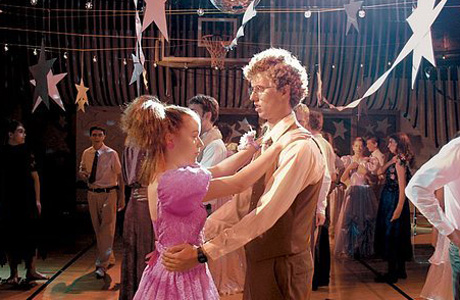 First things first, I'm not talking about the musical Proms we all know and love in the U.K., I'm talking about the fancy parties that mark the end of the academic school year. In the last decade, proms have become almost de rigueur in the U.K. with about 85% of schools reporting some kind of event. Spray tans, expensive outfits and fancy hairdos abound; and that's just the boys. Gone are the end-of-term discos with one pathetic disco ball, a fully lit gym and teachers with rulers measuring the distance between male and female slow dancers.
Prom in the U.S. is a very big deal in most schools. Typically, the students (not "pupils") don formal wear, the guys coordinating their colors with the girls' dresses. Guys will also buy their date a corsage, which is a large flower/bracelet, and will wear a matching boutonnière (often pronounced "bootoneer"). Before the actual prom event, there are often pre-prom parties at private houses, then formal photographs taken at yet another venue. Some parents also hire their own photographer to take photos of the student and family. As a Brit in the U.S., it's very easy not to fully appreciate the importance of these traditions, so my advice is to let your child guide you or talk to other parents as to what you should be doing. Obviously, as you'll be a complete newbie, your child may attempt to have you pay through the nose for things that aren't necessarily traditional, so keep your wits about you!
Many schools elect a prom king and queen, usually voted in by the students themselves. This used to be a plain old popularity/beauty contest, but apparently there's a lot more to being crowned these days. Kids need sparkling teeth, of course, combined with excellent grades, a couple of extra-curricular activities, demonstrated leadership qualities and a good attitude. "To become a prom queen is the secret dream of every girl. But it takes years of excellent conduct, hard work and efforts on personality development that will make you great prom queen material in your school," according to BizyMoms.com. (Gulp – no pressure there.) They must first be nominated then seconded by their peers, and then they start campaigning. Back in the day, this might have meant sucking up to a few people that you'd normally walk straight past, but these days, kids are being advised to take to the internet, as well as handing out candy and putting up posters. This is serious business, people.
Large gatherings of hyped-up 17- and 18-year-olds often spell trouble, so many schools have very strict rules and regulations regarding prom attendance. Students who roll up intoxicated aren't allowed in, no one is allowed to leave and then return, and anyone trying to get in an hour or two after the start of prom will also be turned away. Prom lockdowns are becoming more common, whereby, rather than getting up to mischief at unchaperoned after-prom parties, the students stay overnight at the school or prom venue and are not allowed to leave before morning; literally locked into the building. Indeed, the growing popularity of these programs (possibly not with students but definitely with parents) means a whole new business sector is emerging — that of prom lock-down consultants, who will not only chaperone your energetic students, but provide entertainment ranging from trampolines, volleyball games, video arcades, DJs and the like. The sky's the limit really.
And in case you're a parent who's new to this whole prom thing, according to a recent Visa study, the average cost to a family is $1,078. Apart from the dress or tux rental, the prom ticket itself will set you back around $100. Then there's transportation, photography and after-prom celebrations. As they say over here, "Cha-ching!"
Read More
Filed Under: