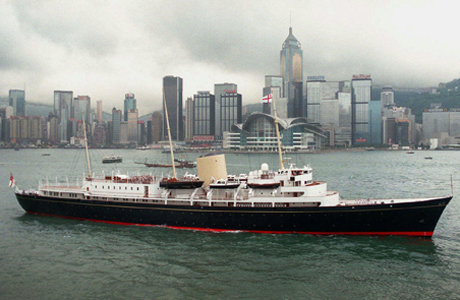 Ahoy there, matey. Please doff your sailor's cap to honor a bit of British nautical history.
It was sixty years ago today (April 16) that Queen Elizabeth II christened Britannia, the last in a long line of royal yachts that date back to the 17th century.
For Elizabeth, Britannia was a floating royal residence, a Buckingham Palace at sea.
The young queen, who had ascended to the throne only two months earlier following the death of her father, traveled along with her husband, Prince Philip, to the John Brown & Co. shipyard in Clydebank, Scotland, near Glasgow. There, she christened the vessel, saying, "I name this ship Britannia, and I wish success to her and all who sail on her."
Queen Elizabeth christians Britannia:
For 44 years, Elizabeth and her family enjoyed trips on the 412 ft. vessel. She used it both for leisure travel, vacations and for official trips and state visits. Guests who came aboard over the years included Winston Churchill, Nelson Mandela and U.S. Presidents Dwight Eisenhower, Gerald Ford, Ronald Reagan and Bill Clinton.
It was also the site of four royal honeymoons: Princess Margaret and Anthony Armstrong-Jones (better known today as Lord Snowden) in 1960; Princess Anne and Capt. Mark Phillips in 1973; Prince Charles and Princess Diana in 1981; and Prince Andrew and Sarah "Fergie" Ferguson in 1986.  (Considering that all four marriages ended in divorce, possibly honeymoons on Britannia put a jinx of future marital happiness.)
The boat was operated by the Royal Navy at a cost of £10 million a year (approximately $15 million). It had a crew of as many as 240 men and, in time of war, could be converted to a hospital ship, though that never occurred.
Britannia was decommissioned in 1997. Tony Blair's newly elected Labour government decided against overhauling the yacht or building a replacement, saying the cost would be too high.
Just as she had been there for the christening of Britannia, so Queen Elizabeth was there to witness the vessel's decommissioning at Portsmouth Navel Base.
Queen at decommissioning:
Britannia is now permanently docked and on exhibit to the public in Edinburgh, where it has proved a popular tourist attraction, drawing 300,000 visitors annually.
In honor of the ship's 60th anniversary, a week of celebrations is being held aboard the Britannia. Visitors are being encouraged to dress up in 1950s outfits and have their photos taken aboard ship to honor its birthday. For more information on special Britannia anniversary activities, click here.
Read More
Filed Under: