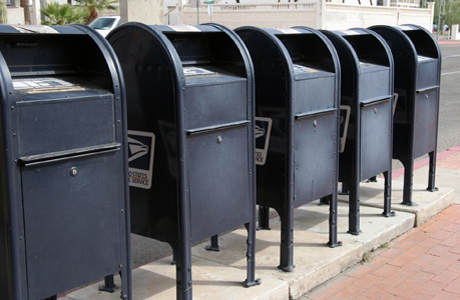 My earliest months as a U.S. expat would have gone more smoothly if I'd spent less time dithering like a scared tourist and more time plowing through these sensible steps as soon as I touched down.
Apply for a social security number
You'll need to ink these nine digits onto every piece of American paperwork, so get on the case. But first, check out Mind the Gap's handy guide to acquiring one.
Learn the layout of your local supermarket
This might sound like an activity aimed at someone with fewer brain cells than nostrils but, in my experience, shopping for groceries takes ages when the products are alien, and you don't have the store's blueprint etched on your brain. So, find a shop you like and spend an hour taking in the floor plan. While you're at it, pinpoint some substitute products for your British favorites.
Email an update to your nearest and dearest
Don't make the mistake of thinking the wrench of moving to another continent will be lessened if you abstain from contact British friends and family while you get settled. Those first days will be some of the most stressful you'll encounter and letting everyone know how it's going will be hugely cathartic — for them too.
Get lots of takeout
You won't have the time or energy for cooking during your first week. Even eating in restaurants might feel like too much effort when you've spent the day fake smiling at creepy realtors or standing in line at the DMV. Fighting this fact will only up your stress levels, so hit Yelp for delivery recommendations.
Find your nearest post office
Useful for buying stamps, practicing queuing and having confusing conversations with snippy P.O. tellers. Also, locate your nearest post-box. These would be the blue metal boxes with legs, a curved top and a flap you can pull down to deposit mail. They are not bins! That is why I absolutely did not accidentally once put my Diet Coke can and Pret A Manger sandwich wrapper in one. This definitely never happened.
Make at least one friend
Meeting people is the key to infiltrating your new community. It takes time to make proper buddies but building a database of locals you can ask about everything from neighborhood schools to places that sell curry leaves (a question posted on my area parents' forum recently) will make settling in that much easier.
Book a trip home
The expat blues can hit fast and paralyze you. The best way to smack them down is to plan on seeing everyone you just left very soon. It's something comforting to look forward to in those early days when your life is a muddle and all the people you'd normally drown your sorrows with live on the other side of the world.
Open a U.S. bank account
The sooner you do this, the sooner you can stop paying ludicrous fees every time you take cash out of an ATM. But be warned: U.S. banks charge you to withdraw money if you don't have an account with them. This is manageable if you, say, live in New York and bank with Chase. But try finding a Chase branch when you're on holiday in Mississippi and Alabama. (Hint: you won't.) U.S. banks cluster in certain states, so be prepared if you plan on traveling.
Find a local doctor
Sign up with a good primary care physician (that's American for "GP") who takes your insurance. Don't leave it until you're ill and less able to make sensible decisions. And ladies: you'll need a separate gynecologist (often shorthanded to ob/gyn) for your annual undercarriage check. (You're supposed to have one every year here.) See Yelp for reviews or ask your new friends for recommendations. Keen hypochondriacs like myself might also want to read up on local emergency rooms. That way you know which establishments' doctors are less likely to accidentally remove a kidney when you've come in with a gash on your foot.
Go out
Ask that friend you've made (see above) to show you around the area, learn to use the metro and familiarize yourself with the buses as soon as you can. Walking is good too, if you live in a city where stuff is clustered together. Navigating a new locale can be terrifying so plenty of nervous new expats put it off, worrying that they'll accidentally stray into a dodgy part of town. Rest assured: unless you can't work Google Maps, this won't happen.
Read More
Filed Under: