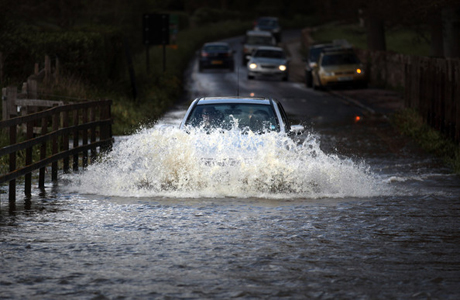 Expats don't stop worrying about the homeland the moment we board a U.S.-bound plane. We're anxious for everyone we've left behind. And, frankly, much of the stuff that goes on in the U.K. still affects us.
The financial crisis
At the moment, the U.K.'s economic forecast is pretty doom-steeped. As some experts predicted, the U.K. lost its top AAA credit rating, the first time this has happened since 1978. Rats. I'd like to think that one day I could return to a land that hasn't morphed into a Mad Max-style, post-apocalyptic wasteland. Greece, basically.
Will Scotland break away from the UK? 
If this happens it might feel like Britain is being decapitated. Plus, a fully independent Scotland would need to reapply to become a member of the EU (huge hassle, lots of forms to fill in, etc). And currently, all newly approved applicants are required to adopt the Euro. Imagine having to visit a bureau de change every time you get an uncontrollable craving for haggis or bagpipes and want to pop across the boarder.
The horsemeat scandal
Was my teatime lasagna running in last Tuesday's 2:30 pm at Kempton? It's this sort of question many Britons are asking themselves since the equine consumption story broke a few weeks back. In case you're unaware, horse DNA has been detected in some supermarket ready meals claiming to be beef-based. I wonder how long this has been going on and whether it's actually stopped. What if, on a return trip, I accidentally find myself dining on Mr. Ed?
Britain's future with the European Union
It's emerged that a mere one-in-three British people would vote to stay in the EU if a referendum were held today. Having taken the country's temperature, David Cameron has now promised to hold a public vote on membership in 2017, should the Conservatives be re-elected. If we do leave, will I need a new non-EU passport? And how will that affect Brits' ability travel quickly and easily throughout Europe?
The constant rain and flooding
Last year might have opened with warnings of drought and hosepipe bans but it ended up being the U.K.'s second wettest on record with over 52 inches of rainfall recorded. Consequently, the pessimists back home (that'll be most Brits) are bracing themselves for another super-soaking in 2013. I guess I should look into barge rental for my next U.K. holiday.
The Norovirus
Britons are still succumbing to this super-charged winter vomiting bug. More than one million U.K. dwellers are thought to have contracted the virus so far. That sucks for my former countrymen though, naturally, I'm more concerned about Noro spreading throughout the U.S. as the cold snap drags on.
Rail fares have gone up
The annual hike of train ticket prices in the UK was predictably brutal. This January, it was announced that fares would rise by an average of 4.2 percent, making my twice-yearly train-based missions to see friends and family all over the U.K. even pricier.
Will my favorite British products be discontinued?
I live in fear that manufacturers will pull lines that I stock up on when I'm back home, from my first choice deodorant (only available in the U.K.) to Angel Delight. To guard against the chaos this would cause, I've set Google alerts for these and all my other beloved Brit stuff so I can bulk order before they disappear forever.
Where will Richard III be buried?
The remains of a spinally challenged British monarch dug up in a Leicestershire parking lot will eventually be reinterred – but where? Leicestershire has a claim and so does York, but it looks like Westminster Abbey will probably win out. At the time of writing, the debate rattles on. Frankly, I'll be stuffed if I'm trekking to Leicester to visit a dead king so bung him in the Abbey, please.
Will my favorite U.K. shows get cancelled?
Watching the best of British TV helps keep me connected to home. I'll admit that I'm prone to a temporary sanity wobble when one of the networks scraps a gem. Already this year the Beeb has axed Being Human (the fifth series finale is officially The End) along with The Hour, which survived a mere two seasons.
Read More
Filed Under: