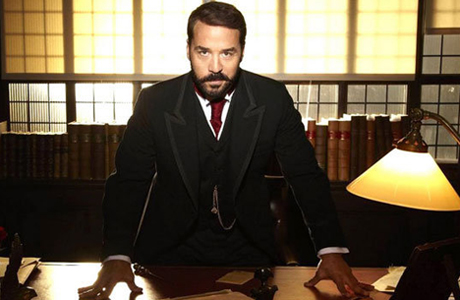 ITV brings to life a true rags-to-riches story of a self-made American taking his knowledge and success to London.
What's on: Mr. Selfridge
What is it: A British period drama, set in the 20th century, follows Chicagoan Harry Gordon Selfridge (Jeremy Piven) to London where he invests £400,000 of his own money to open up a department store, after modernizing Marshall Fields. Selfridge promoted the idea of shopping for fun versus just need.
Air-date: January 6, 2013 – Present on ITV (Available on PBS's Masterpiece Theater in March)
Who's watching: 5.97 million Brits
Why so popular: Dramas based on real-life stories tend to draw in viewers with people thinking, "Wow, this actually happened," giving the plot more punch. Young Harry started work in a dry goods store in WI, he made his move to the big bad city of Chicago and worked his way up the ranks at Marshall Fields, making monumental changes in customer service. Selfridge went to London on holiday and saw an opportunity to take his show on the road. The swanky period and splendid visuals appeal to the masses. Of course, the star power of Jeremy Piven, of HBO's Entourage-fame, is most likely intriguing to unsuspecting Brits.
American counterpart: Miss Pettigrew Lives for a Day, starring Amy Adams as an American actress who moves to London, has the same feel. But, really, there isn't anything like this in American television that comes to mind … that's a good thing, it's new!
In the trailer, Mr. Selfridge meets the new staff and he explains to them, "This is the beginning of something amazing. We are going to make shopping … THRILLING!" He creates quite a stir.
Mr. Selfridge Trailer
Jeremy Piven is all over Twitter talking about the show. Turns out you can watch it on iTunes if you can't wait for the show on PBS! Thanks JP for the 411.
"@blondzai: @jeremypiven #MrSelfridge Episode 1 is Starbucks Pick of the Week. Never been so excited to download anything off iTunes."

— Jeremy Piven (@jeremypiven) March 13, 2013
The star even re-tweeted a fan's disappointment over Season One coming to an end.
"@jamieawhite: I'm very angry @jeremypiven as I've just learned that tomorrow night is the season finale of #MrSelfridge" We will be back!

— Jeremy Piven (@jeremypiven) March 9, 2013
Aw, that's sweet. The show has been renewed for Season Two so no need to be too "angry".
We want to go to the actual Selfridges store now! What about you? 
Read More
Filed Under: