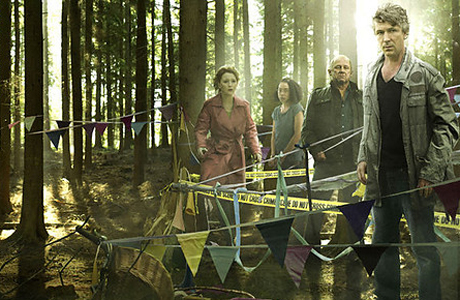 This five-part series conquered the 9pm time slot, outperforming the monthly average for the past 12 months.
What's on: Mayday
What is it: This drama series — starring Peter Firth, Sophie Okonedo and Aidan Gillen — revolves around what happens to a town and its community when the 14-year-old May Queen goes missing.
Air-date: March 3, 2013 on BBC1
Who's watching: 7.68 million Brits
Why so popular: The show aired five consecutive days in a row giving viewers something to tune in to each night. Before the credits even end the young girl has gone missing and we're introduced to a handful of suspects who elicit sympathy and suspicion.  The short stint allows viewers the "quick fix" answer as to "Who killed Hattie?" The unpredictable characters and plot turns kept viewers on the edge of their seat.
American counterpart: David Lynch's Twin Peaks, which aired 1990-1991, was on for two seasons with the lingering question, "Who killed Laura Palmer?"
Hattie, the May Queen, goes missing in the series trailer. People wonder if she's just run off with a friend or something more dastardly has happened. It's not clear if she's alive or dead. People start suspecting each other and pointing fingers. A neighbor is faced with the fact that her husband's shirt is covered with blood. Does she confront him or protect him?
In the first episode, Hattie's uncle Steve goes to a neighbor, Malcolm (Firth), to ask him to help search the woods as he is an expert on the area, especially in the dark. Steve prefaces his request saying he'd understand if Malcolm doesn't feel comfortable doing so. Malcolm turns him down and Steve doesn't take it well. What's up with that? You can watch the clip, here.
Fiona (Okonedo), a former police officer, employed Hattie as a babysitter. Her police instincts kick in and she questions Everett (Gillen) about him living next door to Hattie and her family. You can watch the clip, here.
Mid-season there is a sighting of Hattie. Or is it wishful thinking? You can watch the clip, here.
Fans are chiming in on Twitter, here's a bit of feedback:
Catching up with #bbc #mayday Just fantastic acting, plot and suspense. Awesome production. Anyone know what it's shot on?

— Simon Page (@Cameraman_Simon) March 14, 2013
@reeceshephard Who was the killer in mayday pls I missed the last part?

— G (@sureconnectmi) March 15, 2013
Some fans missed the series finale and are left wondering, "Who killed Hattie?" This is one of the dangers of having a series air five days in a row. You may actually want to leave your house one evening!
So, we're not the only ones who haven't seen the entire series … yet!
Who do you think killed Hattie? 
Read More
Filed Under: