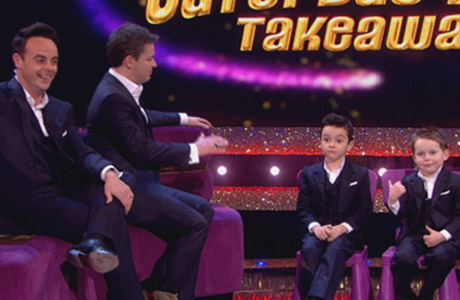 Ant and Dec host a variety show on craic.
What's on: Ant and Dec's Saturday Night Takeaway
What is it: Ant and Dec are a dynamic comedy duo who hosted nine seasons of a variety show before taking a break to launch family game shows called Ant & Dec's Push the Button and Red or Black? After a bit of a hiatus, they've made their return and the fans are loving them and their hijinks. The variety of acts and challenges are definitely random. So, we're not surprised when learning Ant and Dec have "Little Ant and Dec", two child look-alikes, who stand in for the pair when they just can't be bothered.
Air-date: 2005-2009; February 23, 2013 – Present on ITV
Who's watching: 6.55 million Brits
Why so popular: The lads use the word "variety" to its fullest extent. In addition to vaudeville-like acts, viewers have the chance to win prize money by taking part in obstacles or simply by sitting at home and luckily having takeaway delivered to them along with $1000 if they answer a trivia question correctly. The pals have some pull and invited celeb guests like Simon Pegg and Ricky Gervais to act as announcers on occasion. The new show incorporates interviews and pranks.
American counterpart: The Gong Show is one of the original TV variety show. The Discovery Channel's Cash Cab comes to mind because it includes unsuspecting people who all of a sudden become contestants.
If you'd like to check out some of Ant and Dec's "vintage" work, prior to their return, go, here. Here's an introduction to not just Ant and Dec but "Little Ant and Dec" as well. The lil' ones have their first mission to interview Mila Kunis. Kunis is a good sport especially when "Little Ant" asks her about "friends with benefits"!
Here's a clip of Ant and Dec performing for the audience. They act like they're goofing around but they've got the boy band moves down. The song is actually on the verge of topping the UK single charts. The guys have pledged to donate the profits to a children's charity.
It seems as if they actually want to be boybanders but they put in months of singing and dancing training. They'd rather   prank boybanders like One Direction. Ant and Dec pretended to fly in 1D's "super fans" from New  Zealand. It gave 1D a bit of a scare but at the end they all laughed it off.
1D's Harry Styles went to his Twitter and let fans know about their appearance.
Photoset: Ant and Dec Saturday Night Takeaway prank preview (x) http://t.co/N9zXst00rl

— Captain Styles (@Tracking1D) March 22, 2013
This fan is keen on the River Dance sketch.
http://t.co/gq0a5rJ2Mz the river dance sketch on Saturday night takeaway ,ant and Dec ,funny 🙂

— andrew lone (@andrewlone28) March 21, 2013
The show feels like a house party … and, well, some of their friends are famous. And, we're on the list apparently. Ant told Metro, "We want to take Takeaway to the States as we think it's a great show." He went on to say,"It's the right time to give it a crack. USA Takeaway should work so it's something we think it would be really good to do and make happen."
Do you think their show would translate to an American market?
Read More
Filed Under: