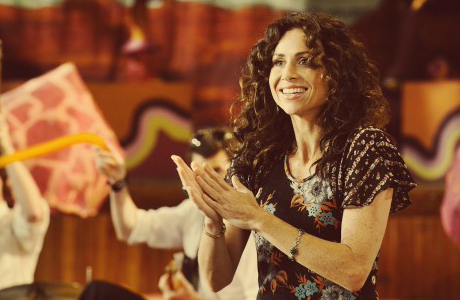 In Hunky Dory, out on Friday (March 22), you can find British actress Minnie Driver starring in a coming-of-age musical film set in Wales in the 1970s.
Driver, who sings in the picture, plays a teacher who is getting a group of schoolchildren to perform a rock opera version of The Tempest.
Her character is passionate and unconventional. "She's a bit mad and not very together," says Driver. "I liked her. She's funny."
The actress also speaks with a Welsh accent in the film. Although her father had a Welsh background, she found getting it right was a challenge.
She relied on a dialect coach: "He taught me to do a Welsh accent. It's very hard. It was very hard. I worked really hard on it, but I loved it. It's a great accent, hard to do well."
The teacher Driver portrays has masses of charm but behaves inappropriately. At one point she kisses one of her pupils on the lips.
The actress says: "It's indefensible, a teacher kissing a kid. That's my position on it. However, in that moment, she's telling him, 'I think you're gorgeous and you're amazing, and I know that you want to kiss me, and this is as far as this goes.' There's something sort of like sending him on his way about that."
Hunky Dory is not a big budget extravaganza. It's a small endeavor hoping for some modest success on the art house circuit in the US – it was released in the U.K. last year.
Minnie Driver may make a bigger onscreen splash if a TV adaptation of the acclaimed 2002 British film About a Boy gets off the ground.
She's been cast as the female lead in a pilot for a possible new series taking on Toni Collette's role from the movie. The actress thinks a TV adaptation definitely has the potential to succeed: "I think it takes the best things of the movie and really because the characters are so good, they can carry on telling stories through a TV show, so fingers crossed, it gets on the air."
Read More
Filed Under: