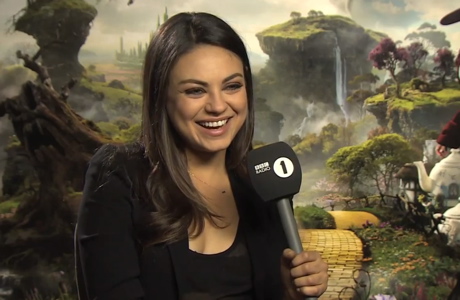 Press junkets, in which celebrities sit for serial interviews to promote their latest movies, are generally not conducive to unique, surprising or unusual answers.
That was definitely not the case, however, with an interview that Mila Kunis, in the UK to promote Oz the Great and Powerful, gave to Chris Stark of BBC Radio 1's Scott Mills show. Stark comes off as a sweeter cross between Sacha Baron Cohen in one of his interviewing personas and a "Between the Ferns" Zach Galifianakis, with the self-effacing demeanor of a Hugh Grant thrown in. He began by telling the Family Guy star that this was his first celebrity interview.
After beginning with the mock confession, "Seriously, I'm petrified," Stark finds a rich field of humor in the situation, and Kunis plays along not just as a "straight man" but as an active member of a comedy duo.
When he appears to ask her out on a date to a football (soccer) game with his pals, Sir Dossa, the Convict, and Chango the Beast – characters on the Scott Mills show – Kunis declares Stark "awesome." Later, the radio comedian also invites her to a friend's wedding, where he says the British tradition of "dropping trou" is likely to be observed.
At one point, when Stark says he should get back to questions about the movie she's there to promote, Kunis asks, "Why? This is such a better conversation." And when an off-screen publicist apparently takes Stark's suggestion seriously, Kunis offers, "Let me just give you some answers to questions I know you're going to ask" and rattles off a list of standard, pre-packaged talking points.
Along the way, the interview plays with notions of British-American cultural differences and pokes fun at the celebrity publicity machine.
"This is the best interview I've had today," Kunis said.
Read More
Filed Under: