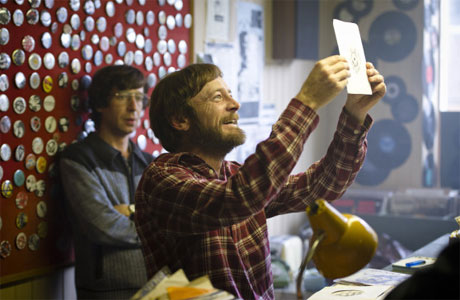 Let's start with the basics, so we all know we're on the same page.
"Teenage Kicks" by the Undertones is one of the greatest singles ever made. It's one of the greatest singles ever made by a band from the British/Irish Isles, it's one of the greatest singles ever made by a punk band. It's one of the greatest pop singles ever made and it is one of the greatest rock singles ever made. Whichever way you slice up the data, if you have a list of greatest singles and "Teenage Kicks" isn't on it somewhere, your list is wrong.
So, now that we are all know this to be true, here's an exciting thing. A movie called Good Vibrations is doing the rounds (released in the UK on March 29). It's the story of the tiny Belfast record label that started championing the first wave of Northern Irish punk bands, and released the "Teenage Kicks" EP. This was during an age when the idea that you could start an independent record label and put out the songs you wanted to hear, and have them distributed, was still very new.
Local legend Terri Hooley (played by Richard Dormer) ran the shop, and the label, and this is his story:
Good Vibrations won Best Irish Feature at the 2012 Galway Film Fleadh.
Here's some more context from Terri himself, especially on the open conflict between protestant and catholic factions in Northern Ireland at the time.
And if you're still not convinced, why not read Terri's account of getting into a fight with John Lennon in the late '60s, after the Beatle expressed support for the IRA.
Read More
Filed Under: