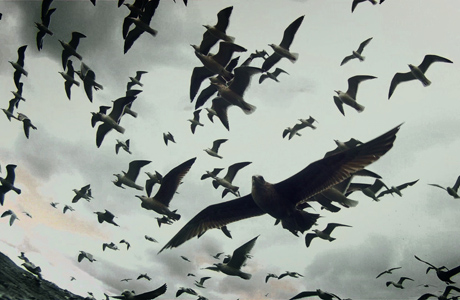 British-born Lucien Castaing-Taylor launches his unusual documentary Leviathan in New York today (Friday) in the wake of strong reviews at festival screenings. It's the story of life on board a fishing vessel plying the high seas off the coast of New England. Castaing-Taylor, together with fellow anthropologist and filmmaker Verena Paravel, used an array of miniature video cameras to capture life onboard.
Most of the film was shot at night. The audience is taken on a dark and at times disconcerting voyage.
Castaing-Taylor says: "What was conscious was the desire to immerse the viewer into a very unfamiliar world – a sort of cosmic, diabolical kind of world."
There is no commentary in the documentary, no interviews, no meaningful dialogue. But there are lots of strong images and sounds. The overall effect is disorienting.
"The experience of being on a boat in the middle of the Atlantic or in the middle of any huge ocean is one of confusion and ambiguity and disorientation, so we wanted the film experience to reflect the experience of being on the boat," says Castaing-Taylor.
And what do the fisherman make of the film that the Liverpool-born filmmaker has put together?
Castaing-Taylor says: "I think it's a mixture of apprehension and excitement, and I think they're waiting to see what the world will make of the film just as the rest of us are."
It takes a while to get used to watching Leviathan but its sounds and images do very effectively convey a haunting portrait of working life on board a fishing vessel. It's a hard, grueling, unforgiving view of commercial fishing that's up on screen and Leviathan brings it home, at least in visceral terms, better than many standard issue documentaries could ever hope to do.
Read More