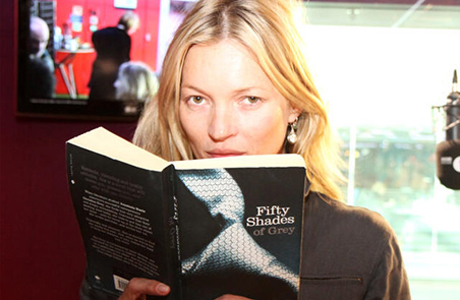 Supermodel Kate Moss teamed up with BBC Radio One Breakfast Show host DJ Nick Grimshaw to raise £200,000 for Comic Relief by reading a passage from E.L. Kames famed 50 Shades of Grey, reports the Telegraph.
Moss, who claims to be shy, giggled prior to the reading saying to her friend and DJ Grimshaw, "There's a reason I don't talk." She was a bit nervous leading up to the cheeky scene.

The studio guests were in an uproar after the reading. Moss herself yelped, "Oh. My. Gawd," and sort of flung backward on the couch with her feet in the air. Oh my, is right. Kate, it's just a few sentences. Could you just imagine if she had to give a full fledged, memorized speech.
Well, it's all in the name of fundraising and she got the job done. The donations came in prior to the reading exceeding the monetary goal. It was kind of her to donate her services. The telethon itself, Red Nose Day, airs on BBC1 on Friday night, March 15.
Do you think her reading was sexy?
Read More
Filed Under: