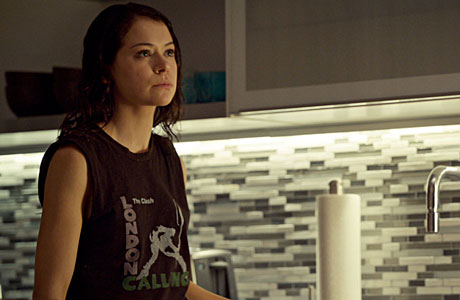 See this pic? That's Sarah from BBC AMERICA's Orphan Black rocking a particularly iconic Clash teesh. The kind of teesh you could convincingly pretend you've had since you were tiny, after it was handed down by your roadie dad or something. It's the kind of teesh you wear if you want people to know you take no nonsense, you're a person of spirit and determination, you're fierce and independent. It's the kind of teesh you wear if you're (or you want people to believe you are) a ROCKER.
But it's not the only shirt she could have worn for a similar effect. Here are eleven other examples:
This, the cover of Joy Division's "Unknown Pleasures," depicting radio waves from a pulsar, is an image that needs no introduction or explanation to those in the know, and yet remains bafflingly obscure to everyone else. Just perfect.
Whereas, you'd have to be some kind of culture refusenik not to be aware of the prism rainbow on the cover of Pink Floyd's "Dark Side of the Moon."
Any Iron Maiden teesh would do. They're all good, but "The Number of the Beast" might just be the most popular, as Satan is in it. The tattier the better, mind.
This one is just scary, think of the fingertips! And the aftershave burn! What manner of giant needs a razor blade that big, Judas Priest?
Ah, the classic snotty metaller teesh. No nonsense, just a logo and a boar-faced dog looking angry.
There are countless iconic Beatle designs out there: "Abbey Road," "Sgt Pepper's," "Revolver," but this one created its own spinoffs. The only slight irritation being they've got George and Ringo the wrong way around.
Ah! The mighty 'Flep! Granted, a teesh like this might send a message that you're occasionally a little style-over-substance compared to, say, a Motorhead fan, but should anyone ask you to tidy your room, you can at least answer, with some authority: "C'mon get real!"
I'm not entirely sure why this design is so popular. It's not even a very good album cover. And yet, countless rock buffs have chosen to express their individuality by wearing a teesh with a visibly refreshed yellow Ozzy Osbourne on the cover, offering peace signs while some sideways text advertises his band's fourth album.
At the other end of the scale, a design masterpiece from Jamie Reid. The Sex Pistols' "God Save The Queen" cover, given a bit of a Union Flag makeover.
And another, Mick Jagger's lips turned into the rude, crude Rolling Stones logo.
And finally, nothing says "stuff you, society!" than an RAF target and the Who's special rising arrow.
Who did we miss or otherwise fail to find room for? Tell us here:
Read More
Filed Under: