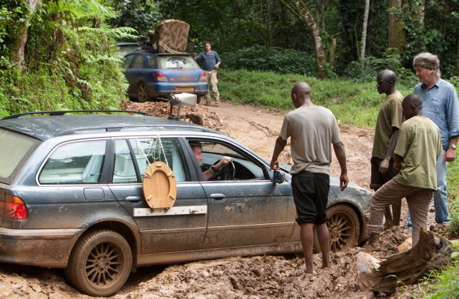 Next week's show, a trip to Africa, is the first episode of Top Gear's first-ever two-parter.
The distinctly non-automotive challenge of the show concerns itself with a question that had fascinated people for thousands of years before the invention of the car: what is the source of the Nile, which, at 4,150 miles, is generally considered to be the longest river in the world?
Though centuries of exploration have located several sources, Cars UK suggests, "You can probably bank on the boys deciding it's actually a running tap in Kigali."
Messrs. Clarkson, Hammond and May are taking up the mantle of their famed countrymen, John Hanning Speke and Richard Francis Burton – whose enmity is legendary in the annals of European exploration – as well as that of David Livingstone and Henry Morton Stanley. The latter two apparently got on much better than Burton and Speke, with Stanley's greeting, perhaps apocryphal, upon finding the other explorer near Lake Tanganyika, becoming one of the most renowned quotations of all time: "Doctor Livingstone, I presume?"
There's not much, however, that you can presume about next week's episode, except, perhaps that there is also a distinctly automotive part of the show as well. Each of our hosts chooses a used estate car (British for "station wagon") that cannot cost more than £1500. Jeremy chooses a BMW 5 Series Touring, Richard selects a Subaru Impreza WRX and James picks a Volvo 850R. None, they discover, is intended for the types of terrain the three encounter.
"There hasn't been a moment where one of us wasn't stuck," Clarkson says on the show. "No car is built to endure conditions like this."
Top Gear executive producer Andy Wilman said no one had envisioned a two-part show.
"We went to Africa, filmed what happened, and then when we'd completed the first cut it was running at 2 hours 15 or something ridiculous," Wilman explained on the show's blog.
"We set about trimming back, but as Jeremy has explained before elsewhere, cutting stuff is good to a point, because you're invariably getting rid of excess fat, but keep going and eventually you're slicing into muscle, sinew and bone, and the story starts to suffer," Wilman wrote.
The Top Gear producer also said that in addition to the three guys, "there's the other star if the show, Africa itself." And he didn't want to lose any of the continent's wonder.
"I never knew countries could look quite as beautiful as Rwanda or Uganda," he writes. "In fact, the only thing that spoils the epic sweep of the landscape is Jeremy's double denim."
Part one of the Africa trip premieres Monday, March 11 at 9p/8c; part two airs the following week, beginning on March 18.
• The Wisconsin-based company that made the driverless truck featured on this week's Top Gear was pleased with its performance in the challenge against James May.
Oshkosh Corp's TerraMax is a "drone" vehicle, operated by computers, GPS and remote operators, and was originally devised for the U.S. military. On Top Gear, it raced against James May in treacherous Nevada terrain.
"For Top Gear, there was a lot of coordination, but it worked out really well," Oshkosh's chief engineer John Beck told the Fon du Lac Reporter. "Everybody was impressed with the platform. It's really capable, capable of driving a lot of places that Range Rover couldn't go. The technology, as a whole, impressed them."
• It's man vs. car this weekend at the Top Gear Festival in Sydney. Actually, it's woman and child vs. Jeremy Clarkson in a car. Jezza has challenged two Australian runners to a 100-meter sprint: Olympic Gold medalist Sally Pearson and 12-year-old track sensation James Gallaugher, who is being hailed as the next Usain Bolt.
Pearson is the fastest woman in Australia and Gallaugher is thought by some to be the fastest person of his age on the planet.
Last year a viral video brought Gallaugher international fame when he closed what appeared to be an impossible gap in a relay race and won it for his school in Ulladulla, a coastal town in New South Wales about 100 miles south of Sydney.
Clarkson saw the video and extended the challenge to Gallaugher as well as Pearson.
"I've often said there's no sport that can't be improved by using cars," Clarkson said, "and now I'm going to prove it using a 100m track, some real sprinters and a Nissan GT-R."
Pearson is upbeat about the race.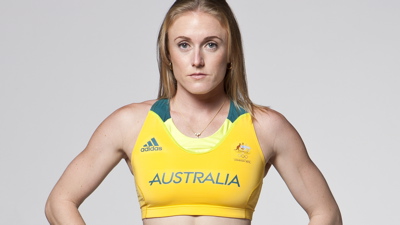 "I'm a big fan of Top Gear, and really excited about being part of the Festival," she said, according to the festival website. "It'll be great to meet Jeremy, and beat him!"
Gallaugher was more circumspect about his chances, telling the Milton Ulladulla Times, "I don't think they're very good," but noting that since the 100-meters is broken into two segments, the runners might have an advantage because it's easier for them to make the 180-degree turn at the midpoint.
Whatever the outcome, Gallaugher says he's excited about meeting the Top Gear hosts and about being given tickets to invite his friends from Ulladulla to the festival.
Expect to see the races themselves on a future episode of Top Gear.
Read More
Filed Under: