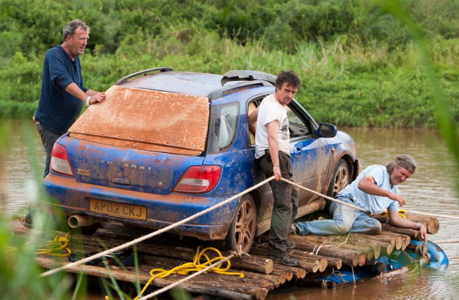 Last week's Top Gear was first of a two-part epic journey to Africa.
Well, the wait is almost over – and the boys' job is far from done. They may have tackled traffic and mud, but their quest, and their challenge, is just too big for one show: explorers Jeremy Clarkson, James May and Richard Hammond redouble their efforts to find the source of the Nile in part two of the season finale special, which premieres Monday, March 18 at 9p/8c.
• Jeremy and James were Down Under last weekend for Sydney's Top Gear Festival. The Hamster didn't attend, but his place was taken by Shane Jacobson, a host of the former Top Gear Australia show. Jacobson and Clarkson appeared on Australia's Today show to preview the Top Gear Festival:
• Last week we told you about a John Henry-like competition scheduled for the Top Gear Festival in Sydney. The 100-meter race pitted car against human, and, though it didn't seem quite fair, it certainly sounded exciting. The leveler was supposed to be that the sprint was divided into two 50-meter segments, putting the car at the disadvantage in having to slow down and change direction. Jeremy Clarkson drove the car, against two of Australia's fastest track stars.
The first challenger, on Saturday, was 12-year-old phenomenon James Gallaugher, who's being called the next Usain Bolt. Some said it looked like a photo finish, which is definitely the way it appears on the YouTube video below, but apparently the car won. Here's the race:
Sunday's race had Clarkson facing off against hurdler Michelle Jenneke.  Jenneke has made a name for herself not just as an athlete but as a model, having appeared in this year's Sports Illustrated swimsuit calendar. Watch the race, but even with the dodgy video, this was, unfortunately for Jenneke, no photo finish:
• After the Sydney show ended, Jeremy and James headed to New Zealand, where the show filmed a race between a helicopter and a car on the Ninety Mile Beach at the far north end of the country's North Island. Moari iwi, or tribes, oversee the use of the beach, and one iwi leader, speaking to TVNZ, said of the BBC's visit: "We thanked them for putting us on the map really. And for them to come here with all their machinery, the BBC, you know to us is just like seeing the first ice cream I suppose."
Click here to look at some video.
• Finally, we know your love of cars is no game – but that doesn't mean you don't love games about cars, so here's the newest one, presented by BBC America: the new AMG Power Drive game. Play for your chance to win a real-life AMG track experience at Connecticut's Lime Rock Park.
Read More
Filed Under: