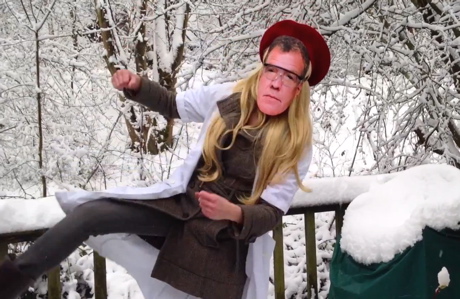 "You buy a bag of peanuts in this town, you get a song written about you," said Orson Welles as the title character of Citizen Kane.
Well, Citizen Clarkson has had a new song written about him, by a British singing comedy team known as Hawkeye and Windy, who describe their musical talents as including "mildly amusing lyrics, questionable singing and more autotune than you can shake a stick at."
In introducing their "Jeremy Clarkson Top Gear Song" on Twitter, the duo offered up an imaginary conversation about it:
"What the hell is this?"
"That's the worst singing I ever heard."
"This video made my eyes bleed."
Go ahead and watch, but we're not responsible for your bleeding eyes (and yes, read that however you like):
• Meanwhile, Jezza himself is way, way north. According to his Twitter feed, Jeremy has been making a documentary on Arctic convoys during World War II. He started out last week in Norway's capital, Oslo.
"Things you can't buy at Oslo airport," he tweeted. "1 – a hat."
Later in the day, he reported that you couldn't get hats at other Norwegian airports, even in the more northern cities of Tromso or Svalbard. He was getting nervous.
"Look," he tweeted. "It's cold here and it's really really cold where I'm going. So I need a hat."
Then later:
Here's me. Note the absence of hat. pic.twitter.com/Wi0Ty3iK3w

— Jeremy Clarkson (@JeremyClarkson) March 25, 2013
"Arctic Clarkson," as we like to call him – because we like the sound of it – also sent some other dramatic photos, as he pointed out that "I'm now further North than I was when I went to the magnetic North Pole."
It is very very cold here. pic.twitter.com/rQTm2YrTmr

— Jeremy Clarkson (@JeremyClarkson) March 25, 2013
We went through a storm last night. It had an effect on the railings. pic.twitter.com/0b8m2u4lUX

— Jeremy Clarkson (@JeremyClarkson) March 25, 2013
Clarkson's conclusion: "Trust me," he wrote. "Those war time sailors who came up here in duffel coats and jumpers their mums had knitted are the bravest men who ever lived."
• Jeremy might be thinking fondly back to the temperate equatorial climate that he visited recently for the two-part Africa special, in which the triumvirate launched an expedition to find the source of the Nile. Here's the car ferry segment, where the problem wasn't ice and cold – but getting cars across a crocodile-infested river:
• Our friends over at BBC Autos took a look this week at what they call "Auto Eccentricities," – some of the more unusual accessories that you can get in cars nowadays. They divided them into high end and low end. The upscale items included a Mercedes-Benz S-Class active perfuming system and Rolls-Royce's "Starlight Headlining," which puts 1600 fibre-optic points of light on the interior of the car's roof (see photo below). It's kind of like having a planetarium in your car. And it costs an astronomical $14,675.
For the lower end, Ford has a backseat refrigerator – but at $795, it actually doesn't seem all that low end. And for $650, you can buy a projection lamp for your Mustang that shines an image of a horse next to your car when you open the door.
• Can you describe what driving means to you in just one word? That's what Adam Ferrara, Rutledge Wood and Tanner Foust, the hosts of the History channel's American version of Top Gear, tried to do recently online. Spoiler alert: they often use more than one word:
• Nothing succeeds like failure (or something like that), and coming up next week, Top Gear's got a marathon of failure. That's right, we're not foolin' with you – it's all going to take place on April Fools Day. BBC AMERICA is going to be celebrating "April Fails" Day with the best of Top Gear fails, including the latest Top Fails Special, parts one and two. The failure begins Monday, April 1 at 6pm ET and the snafus and debacles will continue on until 4am ET.
Coming up later in the month: the best of 2012 and 2013 specials, premiering Monday, April 15 and Monday, April 22 at 9pm ET.
Read More
Filed Under: