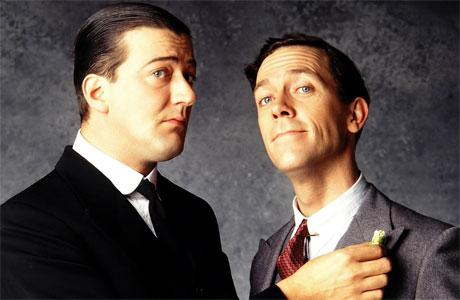 Here's a quandary. What do you do as a fan of a major talent who is no longer with us, if the people responsible for their legacy try to extend the brand in an uncomfortable way? What if, for example, Amy Winehouse's band decided to get back together and find a new singer, using American Idol as a talent search tool, so they can go out on tour and record as Amy Winehouse once more?
Do you rush to denounce it? Do you vow to steer clear? Or do you wait and see if it's any good, and then, having reassured yourself it isn't, rush to denounce it after all?
I only ask because a thing has been confirmed and it's stupid, and the part of me that likes to hear every idea out so that I can be sure whether they are stupid or not is holding back from saying it is stupid, even though it is stupid and there's no plausible way the end result will show anything other than what a stupid idea it was in the first place.
Sebastian Faulks, the author of Birdsong and Charlotte Gray, has signed up to write some new adventures for the PG Wodehouse characters Bertie Wooster and his butler Jeeves. The first of which, Jeeves and the Wedding Bells, is released this November.
His (and Wodehouse's) publisher has already pledged (to The Bookseller) that the book will be "faithful to the history and personality of Wodehouse's characters but by shining a different light on them will also show how robust, durable and lovable these creations are."
And Wodehouse's estate are equally chuffed, saying "We are thrilled that so skilful and stylish a novelist, and so perceptive and discerning a reader, has agreed to bring to life the immortal characters Jeeves and Bertie Wooster for the enjoyment of today's audience in a homage to PG Wodehouse."
Which just leaves the rest of us to point out the bleeding obvious. There are no shortage of PG Wodehouse books in the world. The man had a phenomenal work rate. If you want a Wodehouse to read, take your pick.
And so thoroughly did he occupy the world he created, that it often appeared as though his personality and interpersonal skills had been entirely subsumed into the roaring '20s, even as he wrote on, through the '50s and '60s, and into the '70s. His authorial voice – the secret weapon of his stories – is solidly embedded in his work. Wodehouse fans aren't reading to find out what happens to Bertie and Jeeves, or to discover the latest events at Blandings Castle. They're reading to experience a story told by a master of language, using phrases and ideas that are his alone. It's impossible to imagine another narrator taking over that voice.
Douglas Adams had the same quality. And yet we know that this has already happened to him, with Eoin Colfer writing And Another Thing…, the sixth volume in the Hitch Hikers Guide 'trilogy' in 2009. And it's a far greater imposition than, say, a TV or movie scriptwriter taking a book and translating it for a new medium.
In fact, when a character is translated from words to pictures successfully enough – as is the case with James Bond, or Sherlock Holmes – you can bring him back to the world of words fairly seamlessly, without having to worry unduly about stepping on a dead writer's toes.
But in the main, the narrator's voice belongs to the book, and the book belongs to its author.
This is where that conundrum comes back in. No matter how good a writer Sebastian Faulks is, he's no more PG Wodehouse than I am. So reading the books can only be an exercise in frustration and disquiet, akin to reading a comic book when they bring in a guest artist for one week only, and all the faces suddenly look wrong. The best thing to do is just give it the swerve, and save yourself the heartache.
BUT, this means you can't slag it off either, because you haven't read it. On balance, this is probably fine.
I wouldn't read Oliver Twist 2, or Catch 23, or The Wine From The Grapes of Wrath, or To Grill A Mockingbird, any more than I would go and audition an elderly man to replace my Grandpa. But if that elderly man came to me and offered his services, it's no reason to be rude.
So, thanks Sebastian, I appreciate the offer, but as far as PG Wodehouse is concerned, the position is far from vacant.
Read More
Filed Under: