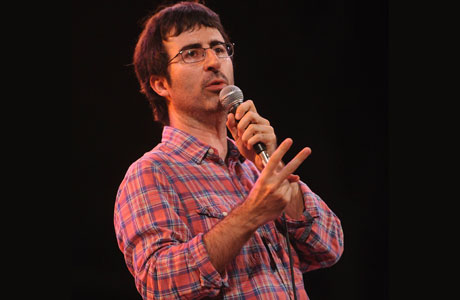 Let's have a moment of silence please, a little bit of respect, a smidgeon of awe-struck quiet.
Jon Stewart of The Daily Show is taking some time off this summer, to direct and produce Rosewater, the movie adaptation of Maziar Bahari's kidnap tale Then They Came For Me: A Family's Story Of Love, Captivity And Survival (which, in terms of  decadent vacations, makes my two weeks in Spain sitting by a pool look like dirty party night at the Caligula household). But rather than postpone the show and then rename it, as it is no longer daily, he's brought in a replacement presenter.
But it's OK, TDS fans, not only is the go-to guy someone you know, he's of equal sardonic fury to Mr Stewart, AND he's British.
John Oliver, for eight (or possibly twelve, depending on reports) weeks this summer, it's your time to shine.
So, in tribute to this giant of a man (hidden in the body of a normal-sized man of a man), here's a selection of the things he has done that are funny:
He's in flipping Community! Offering British slang advice:
Here he is presenting a stand-up show called The Decline of the American Empire, for Canadians:
And spinning dark tales in Mysterious Mysteries, for StoryPirates:
He's even in the first episode of the (astonishing) medical Brit-com Green Wing – think Scrubs with no moralistic voiceover.
See if you can spot where:
http://www.youtube.com/watch?v=LPbjyehTFkU
"There is nothing funnier than a wet Queen" – John being interviewed by ABC News at the Democratic National Convention, last September:
And of course, he's on The Daily Show, like a CHAMP:
http://www.youtube.com/watch?v=l3yKoErCufc
Well done that man. Blighty is keeping a steak 'n' kidney pudding warm for your triumphant return.
Read More
Filed Under: