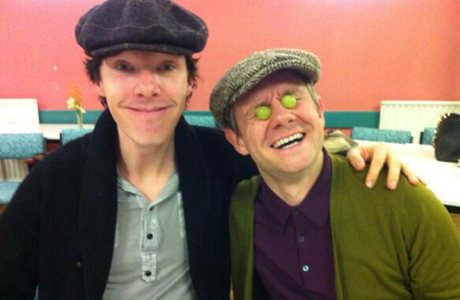 The official BBC One Twitter account posted the above photo this morning (March 11), with Benedict Cumberbatch and Martin Freeman striking a pose like two ruffians. (The grapes as eyes are a nice touch, Marty.) This could only signal one thing.
The band's back together, folks.
Yes, we're that much closer to being Sherlocked once more: the cast and crew today had their first read-through for Season 3, with shooting set to begin Monday, March 18, according to Deadline. Jeremy Lovering (MI-5, Vincent) has been confirmed as director for Episode 1, and Colm McCarthy, who directed episodes of Doctor Who and Ripper Street this year, has been slated to helm at least one other episode. But there will be no Paul McGuigan, who had directed four previous Sherlock installments and is off filming another adaptation, this time of Frankenstein.
It's been hard getting everyone in the same room, with Benedict Cumberbatch endlessly expanding his filmography and Martin Freeman off Hobbit-ing about. But it appears it's finally happening!
Excited? Tell us below:
Read More
Filed Under: