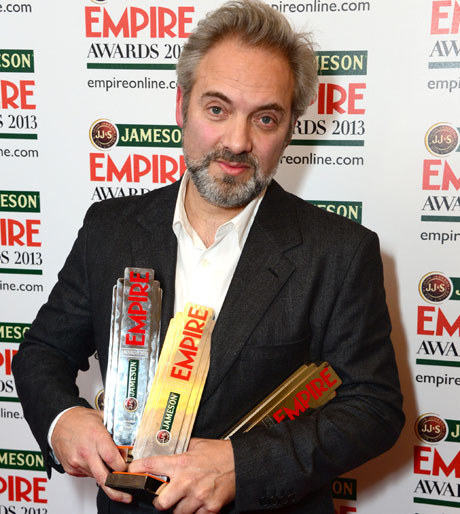 Empire Magazine, the journal of note for the British film buff, has done what the Oscars failed to do, what the Golden Globes failed to do, and what the Brit Awards failed to do (principally because it does not have any categories that relate to movies), they've given Skyfall a decent trophy-cabinet full of awards to take home.
The 23rd celluloid adventure for James Bond, Britain's favorite cocktail-swilling kissy-kissy spy man, was awarded best film at last night's ceremony, and, because it's only fitting, its director Sam Mendes won best director too. And as if that weren't enough, Sam also won the special Empire Inspiration award. Because if anyone deserves a clap on the back for resurrecting a befuddled franchise, it's that fella.
Daniel Craig is not, however, the proud owner of the best actor trophy, as that was awarded to Martin Freeman, for The Hobbit: An Unexpected Journey, which, incidentally, also won in the science fiction/fantasy category.
On the other side of the gender divide, Jennifer Lawrence is officially the best actress, for her sterling performance in The Hunger Games, while Samantha Barks took home the best female newcomer award for her work in Les Misérables. Tom Holland from The Invisible took best male newcomer.
Meanwhile, Daniel Radcliffe had a double win, when The Woman In Black won best horror, and he got a special Empire Hero trophy, all of his very own. Dame Helen Mirren got a similar one, the Empire Legend award. These are both distinct from Empire's outstanding contribution category, because Danny Boyle won that. So all these terms — hero, legend — are perhaps a little confusing, but nothing a good quest wouldn't sort out.
During Dame Helen's acceptance speech, she made a firm stab at the lack of female representation among the recipients of these kind of awards, saying: "I don't want to unduly pick on Sam Mendes, but when he spoke about his inspirations earlier this evening, I'm afraid not a single one of the people he mentioned was a woman."
Hopefully in five or ten years, when Sam's successor is collecting their Inspiration Award, the list will be slightly more balanced in terms of its sexual make-up. In the meantime, this one is for the girls."
Oh and while we're having a critical moment, it seems strange that Skyfall is good enough to win best film overall, but despite being nominated for best British film, it lost out — as did Les Misérables — to Ben Wheatley's black comedy thriller Sightseers.
The implication being, of course, that Skyfall might be a perfectly good film for the rest of the world, but we British have slightly higher standards for ourselves…
The full list of winners is as follows:
Best Film: Skyfall
Best British Film: Sightseers
Best Director: Sam Mendes (Skyfall)
Best Actor: Martin Freeman (The Hobbit: An Unexpected Journey)
Best Actress: Jennifer Lawrence (The Hunger Games)
Best Male Newcomer: Tom Holland (The Impossible)
Best Female Newcomer: Samantha Barks (Les Misérables)
Best Comedy: Ted
Best Science-Fiction/Fantasy: The Hobbit: An Unexpected Journey
Best Thriller: Jo Nesbo's Headhunters
Best Horror: The Woman In Black
The Art Of 3D: Dredd 3D
Empire Inspiration: Sam Mendes
Empire Hero: Daniel Radcliffe
Outstanding Contribution: Danny Boyle
Empire Legend: Dame Helen Mirren
Read More
Filed Under: