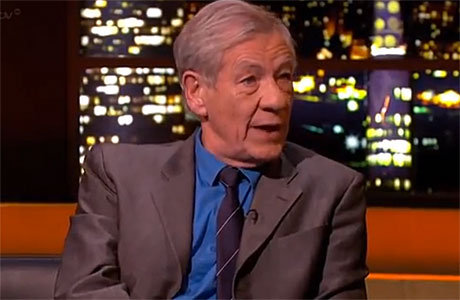 This is one is too good pass up, even if you're already reading it from other places.
(You, er, you don't visit other places, do you? I'd hate to think you were getting your Anglophile jollies somewhere else. It's fine for the others, they have low attention spans and no class, but you, you've always been the best one of the lot. It's written all over your beautiful face. If it turned out you were, you were… (*gulps*) reading other sites, I just don't know what we'd do.)
So, recently on the Jonathan Ross TV show, Sir Ian McKellen was discussing his occasional role as a minister for civil partnerships, and he let slip that one of his future clients is his fellow thespian knight and chromedomed X-Men bezzy mate, y'know, Magneto.
Which means, of course, that he gets to utter the immortal phrase, on British national TV: "I'm going to marry Patrick Stewart."
Here's the whole interview, which also features flying pizza, Sir Laurence Olivier's briefcase, and the full skinny on his new sitcom with Derek Jacobi, Vicious Old Queens.
Watch, enjoy, and NEVER LEAVE US AGAIN:
"How did that happen? WHY did that happen?"
"Because you can do it"
"…yes."
Amazing.
Read More
Filed Under: