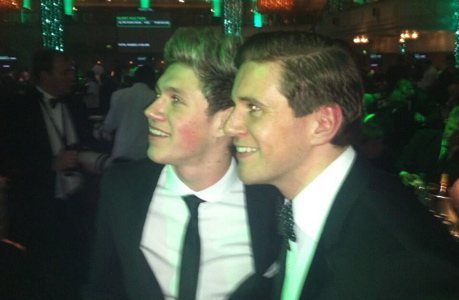 They didn't break the mold when Allen Leech, the actor who plays former chauffeur Tom Branson on the popular Downton Abbey series, was born.
They – who "they" is we'll leave to you, dear reader, and your own beliefs system – used it again when creating Niall Horan, a member of One Direction, the popular Anglo-Irish boy band.
Leech, 31, posted a picture of himself alongside Horan, 19, on his Twitter account yesterday (March 20):
@NiallOfficial I love meeting my son at events! http://t.co/qaVcHrV45e

— Allen Leech (@Allenleech) March 18, 2013
According to Now, the two are believed to have encountered each other at a dinner in London on Monday night honoring Irish rugby star player Brian O'Driscoll. Leech and Horan are both Irish, as were many of the other boldface-named guests at the testimonial event.
Horan re-tweeted Leech's posting, as well as sending out a tweet of his own:
Had the greatest night at @BrianODriscoll testimonial last night! Met some great people! Had the Craic! #irishinlondon

— Niall Horan (@NiallOfficial) March 19, 2013
For the record, the never-married Leech has no children. Also for the record, "had the craic" is Irish for "had a great time."
———————————-
Do you think Leech and Horan look like father and son?
———————————-
Read More
Filed Under: