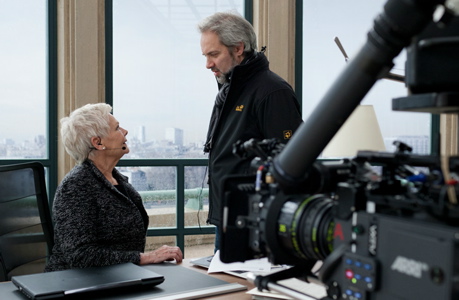 Sam Mendes, director of the latest Bond installment Skyfall, will not be directing the next in the series, reports BBC News.
First James Bond loses his trusty M (Dame Judy Dench) and now he'll have to find a new director. Will he bounce back from such losses?
Well, it's not personal according to Mendes. He told Empire Magazine it was a "very difficult decision." He has not ruled out the idea of returning to the 007 franchise down the road but at the moment he wants to focus on his current project, a stage production of Charlie and the Chocolate Factory, saying he wants to give it his "complete focus over the next year and beyond."
"I feel very honoured to have been part of the Bond family", said Mendes, "and very much hope I have a chance to work with them again."
He goes on to say, "Directing Skyfall was one of the best experiences of my professional life."
It's probably not a huge surprise that he won't be returning having said last year, "I felt like everything I wanted to do with a Bond movie, I put into this film," according to Metro.
Who do you want to direct the next Bond film?
Read More
Filed Under: