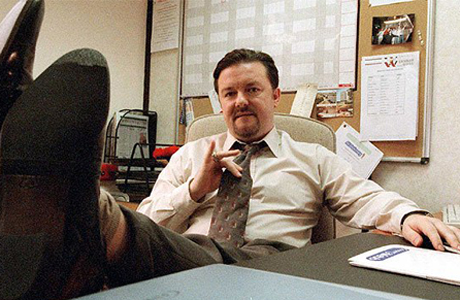 The audacious and inappropriate boss David Brent of The Office will be making his return in a YouTube series starring show creator Ricky Gervais, reports RadioTimes.com.
Brent will be reintroduced tonight (March 15) during Comic Relief on BBC1. But, it doesn't stop there with Gervais teaming up with YouTube to release a plethora of new material with some of the webisodes featuring the awkward yet well-meaning boss.
At the moment, Gervais has approximately 25,000 YouTube subscribers on his official YouTube channel which may grow with this new news. RadioTimes reports Gervais is pleased with the chance to produce comedy without the "interference" of TV execs or other big bosses putting their oar in it.
He expands on this comment, saying, "Any artist will tell you that they want as many people to see their work with as little interference to that work as possible."
He goes on to say he partnered with YouTube because it allows him to create, get final edit and ultimately be the broadcaster, with the aid of YouTube, and of course, the funny man added, "And because of all that money they (YouTube) gave me too, obviously." Duh, obviously.
He makes a great point in that viewing habits are changing and YouTube offers a new platform being instant and accessible for viewers. It will be interesting to see if and when other performers will follow suit in this format.
Are you going to tune in?
Read More
Filed Under: