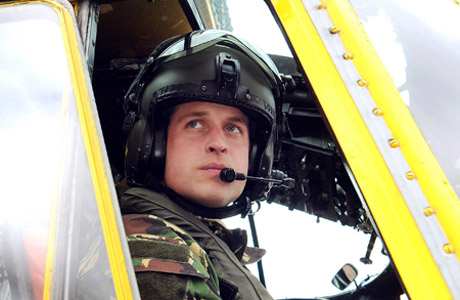 Prince William's 9-to-5 job as a Royal Air Force search and rescue helicopter pilot will be featured in the second series of Helicopter Rescue, reports BBC News.
The series has gained exclusive access to the crews working at the Royal Air Force Station Valley (RAF Valley) located on the island of Anglesey, Wales and the Royal Marines Base Chivenor (RMB Chivenor) in Devon, England. The documentary style TV series will follow the men and women who are a part of search and rescue and what happens on a daily basis.
Here's a clip from the first season where a crew lands and they receive another call before they even get a chance to take their jackets off. It's near dark but the seeking helicopter, actually a flying ambulance, is one of the few emergency vehicles that can respond to S.O.S. calls at night. They arrive to two people who have been injured in a car accident including a 16-year-old girl who is in critical condition. You can watch the clip below:
Flight Lieutenant Wales, as Prince William is referred to in the military, reflected on past missions saying, "I don't think there's any greater calling in life … to be able to see a son or daughter's face when you bring their mother or father back from the edge of death – it's quite powerful."
This statement has added weight to it with Flt Lt Wales being an expectant father with the Duchess of Cambridge due to give birth to their first child this coming summer.
In the first episode of the second season, an emergency call comes in after a boy has fallen off a railroad bridge and lands on rocks. While time is extremely important the Duke is able to speak to the camera and outline the plan, saying, "As captain you're trying to play out the entire rescue, the transit to the rescue and back again in your mind, and pick up any circumstances or problems you can foresee, and try and fix them on the ground before you get airborne."
Are you excited to see Prince William in action?
Read More
Filed Under: