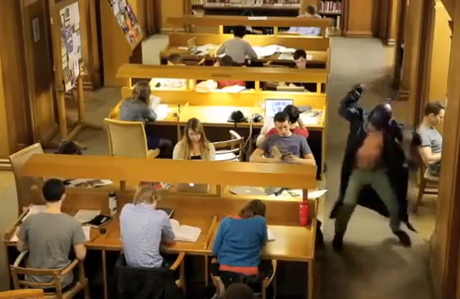 The craze over the Harlem Shake hit Oxford University, as it has just about everywhere else, but one rendition has caused a controversy that this week went all the way to Britain's House of Commons.
It all started when some 30 students made a Harlem Shake video in the library of St. Hilda's College, which is one of more than 40 individual colleges that make up the university. Following the outlines of the meme, the first 15 seconds or so had one person dancing with a football helmet over his head as everyone else appeared to sit unawares, and the remainder of the video cuts to a library full of other dancers, some wearing animal costumes and one holding a banner reading "Free Pussy Riot."
http://youtu.be/KfwNQS_h6Qc
Officials at St. Hilda's College were not amused, and they fired the graduate student librarian on duty at the time and fined students who took part in the video. As soon as the student publication Cherwell reported on the firing, St. Hilda's student organizations called on the college to reinstate the librarian and reverse the fines. One student government motion argued that the video was shot at 11:30 p.m. on a Sunday evening precisely to avoid disturbing people in the library and said the whole production took only about seven minutes to create.
Reading about the controversy, mystery writer Val McDermid, an honorary fellow of St. Hilda's, took to Twitter:
Speaking as an Honorary Fellow of @sthildasox I'm baffled that my alma mater appears to have lost its sense of humour.tinyurl.com/bn2frxp

— Val McDermid (@valmcdermid) March 19, 2013
Not only did the story attract the attention of the media, but it also attracted the attention of at least one politician. Member of Parliament George Galloway told his colleagues in a motion that "the College authorities seem to have suffered a severe sense of humor loss" and he urged them "to think again" and to "see the funny side of this."
Yesterday, St. Hilda's released a statement saying that the graduate student, Calypso Nash, was not actually hired as a librarian but instead as an "invigilator" – and yes, since we didn't go to Oxford, we had to look up the word, which is defined as "someone who supervises candidates during an exam." St. Hilda's statement explained that Nash was hired "on a casual basis" to "maintain quiet in the library."
St. Hilda's said: "As this role was not performed, the Librarian decided not to offer Calypso further casual work. She has not appealed against this decision."
So much for the funny side of this.
The Guardian, however, pointed out that other colleges at Oxford didn't make their Harlem Shake videos in libraries. Here's St. Catherine's College's video:
Here's Wadham College's version:
Here's the Harlem Shake outside the Radcliffe Camera Library in Oxford:
And here's one that isn't in Oxford, but in London's Oxford Circus:
And lest you think we're obsessed with Oxford, here are students in Manchester:
And students in Newcastle:
And don't forget the English National Ballet:
And then there is, of course, the Royal Opera House's version:
http://youtu.be/smGabu7FJa0
Read More
Filed Under: