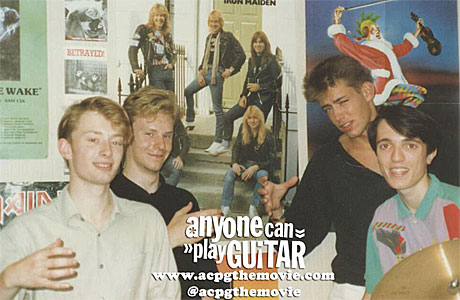 An image like this raises a lot of questions. Here are just a few, and then some sensible answers:
Is that… is that RADIOHEAD?
Yep. That's Thom and Phil and Ed and Colin from Radiohead, sharing an invisible pint, back when they were at Abingdon School in Oxfordshire.
Where's Jonny?
Jonny Greenwood, brother of Colin, hadn't joined the band at that point. They were called On A Friday and their lineup also featured three saxophonists. Which should give you a clue as to where the end of "The National Anthem" came from, if nothing else.
And why has this picture come to light?
Well, it's to promote a new movie about an unexplored, but hugely fertile British music scene, based around the fusty old college town of Oxford. Anyone Can Play Guitar tells the story of the startling talents that took their first faltering steps in the city, from early '80s indie stars like Talulah Gosh, through the '90s with Radiohead and Supergrass, and on into the present day with Foals.
And crucially, for a music documentary, it's not just the tale of the bands that won. They're not even half of the story: the scene is the star.
Here's the trailer, which is less concerned with unearthing old photos of Radiohead than it maybe could have been, but has made up the shortfall by interviewing a literal ton of Oxford talent:
And you can find out how to see the whole thing, by going to acpgthemovie.com. 
Read More
Filed Under: