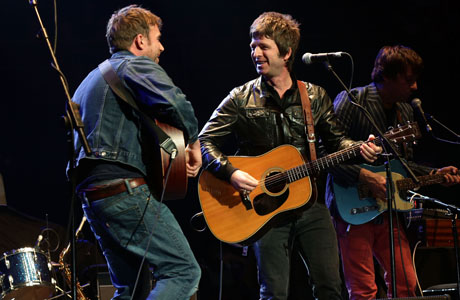 For anyone who followed Britpop in the 1990s, this news may come as a shock: Noel Gallagher of Oasis performed on stage with Blur's Damon Albarn and Graham Coxon on Saturday. I'll give you a second to pick your jaw up off the floor.
In case you missed the heated '90s feud, Blur and Oasis were both at the top of the Britpop scene. For some strange reason, this meant the two bands could not get along. In 1995, they both released singles at the same time, leaving them to compete on the charts. Blur's "Country House" beat out Oasis' "Roll With It."
Albarn quipped back saying that the two could never make up. He stated that "Britpop would be over" if they reconciled, adding that it would also mean they would have to grow up.
Over the years, though, this steamy rivalry cooled down. In 2006 Gallagher retracted an earlier statement about wanting Albarn to contract AIDS, saying he should have wished the flu or a bad cold upon him instead. When Gallagher took on organizing the Teenage Cancer Trust benefit show for 2013, he voiced his desire to play with Blur at the concert.
When Gallagher joined Albarn and Coxon on stage Saturday, the three performed Blur's "Tender." Check out the video of it below.
According to both Albarn and Gallagher, though, the feud ended in 2011 when they ran into each other at a bar. Despite their earlier resolve to remain mortal enemies, they laughed about the feud over a couple of pints, wondering why they were ever enemies.
Read More
Filed Under: