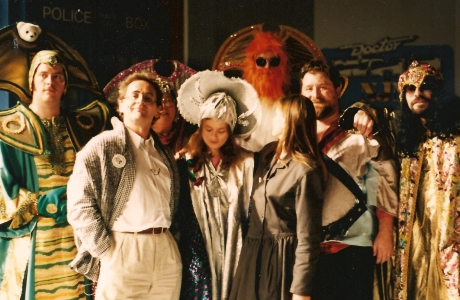 Joe Nazzaro says he owes his career to Doctor Who. A professional journalist for more than two decades, Nazzaro began doing interviews for his local Who fan club before making his first sale to Doctor Who Magazine in the late '80s. He continued writing about the series in Starlog magazine. And to tighten his Whovian connection even further, he is married to Sheelagh Wells, a makeup artist who is one of the few people who have worked on both classic and modern Who. (She won a BAFTA Cymru award for her work on the Season 2 episode "The Girl in the Fireplace.")
Fun fact: Nazarro once took Sylvester McCoy (Seventh Doctor), Sylvester's wife, and Sophie Aldred (who played Doctor's companion Ace) to an off-Broadway performance of Oil City Symphony. The festive photo above was taken the night after, at a PBS fundraiser.
We asked Nazzaro to reflect on his #newtoWHO experience for our ongoing series in which fans remember their introductions to the long-running sci-fi series. Here's what he told us:
Who introduced you to the show?
As a lifelong genre fan, for many years I had been hearing about this strange British series called Doctor Who, and maybe read the occasional article about it in Starlog, but it wasn't until I saw a promo on my local PBS station that I discovered the good Doctor was coming to America.
What was your first episode (and Doctor/Companion), and what about the show grabbed you?
My introduction to Doctor Who was "The Five Doctors," maybe the worst possible episode to use as a jumping point. I was totally perplexed by the notion of five actors playing the same character, not to mention every former companion they could possibly throw in. Throw in the cheesy FX and quirky Britishness of the series — how could I not be hooked?
If a curious viewer wanted an introduction to Doctor Who, which episode would you suggest they start with and why? 
Start with "Blink," which is not only one of the best Who episodes ever, but also one of the finest pieces of science-fiction television, period. A beautifully-designed puzzle box of a story, with a great monster (the Weeping Angels) and a terrific non-companion (Sally Sparrow, played by future Oscar nominee Carey Mulligan). What more could you possibly want?
https://www.youtube.com/watch?v=5jr7XBOJQBk
What was your #newtoWHO experience? Tell us below:
Read More
Filed Under: