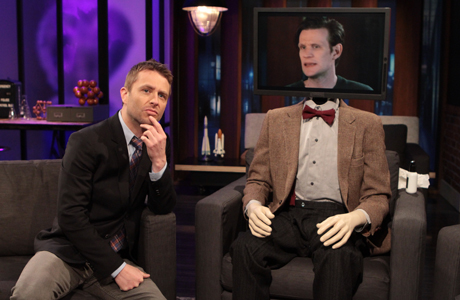 This season's guest lineup began to come together for BBC AMERICA's Nerdist chat show over the weekend, and fittingly for host and Doctor Who fan Chris Hardwick, there's a strong Whovian contingent forming within the upcoming episodes. This weekend's premiere episode, airing Saturday, March 30 at 10 pm ET after the Doctor Who and Orphan Black premieres, will feature Matt Smith and Jenna-Louise Coleman alongside Orphan Black lead Tatiana Maslany and Wild Things host Dominic Monaghan. The TARDIS thread continues in Week Two with Who alum Karen Gillan turning up as a celebrity correspondent "in the field" as she shows us some zombie beauty tips (!) for an episode featuring The Walking Dead's Robert Kirkman and show star Michael Rooker.
However, The Nerdist has also announced a slate of stars beyond the Whoniverse, with heavyweights like Joseph Gordon-Levitt, Seth Rogen, Elijah Wood, Katee Sackhoff, Guillermo Del Toro, and moonwalker Buzz Aldrin already having film their appearances on the show.
You can find more guests — and photos including Mr. Gordon-Levitt yakking it up with Mr. Hardwick — over at the Nerdist show site on BBCAMERICA.com.
Read More