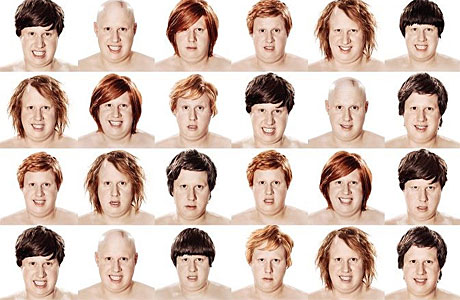 It's a bit funny to think of someone known for their comedic and vocal acrobatics starring in a silent TV series but that's what Matt Lucas (Little Britain, Bridesmaids) is up to, reports BBC News.
Lucas has signed on to a six-part BBC comedy series that won't have any dialogue. Lucas is set to star as a character named Pompidou who is described as, "an elderly aristocratic English oddball who has fallen on hard times."
The actor told BBC he had always been "a huge fan of the visual comedy of Charlie Chaplin, Laurel and Hardy and of course, our very own Mr. Bean."
It will be interesting to see how the storytelling is handled in the absence of language. Will the program include music or will it be absolutely silent? Will storyboards be utilized in between scenes similar to the days of Chaplin?
The show is planned for 2014. We'll just have to wait a bit to see how the program is laid out.
In the meantime, here are a few clips of Lucas in some of his more recent work. Try watching them with the sound off, they're still pretty amusing!
Little Britain


Little Britain is made up of multiple characters but this clip highlights Matt Lucas portraying Vicky Pollard, a teenage girl, who speaks unusually quickly and comes up with gossip easier than the answer people may be looking for … as we see when she makes her way to boot camp.
Bridesmaids

Lucas and Rebel Wilson play the British brother and sister who share an apartment with Kristen Wiig's character. Wiig's character is having a bit of a breakdown and her roommates aren't much help.
Small Apartments

Lucas plays a guy who is doing okay, not great, but okay because his brother lets him live with him. The problem is, he just kind of does what his brother does. He finds himself on his own, living in a small, crap apartment, and things take a turn for the worse.
What do you think of the idea of silent TV?
Read More
Filed Under: