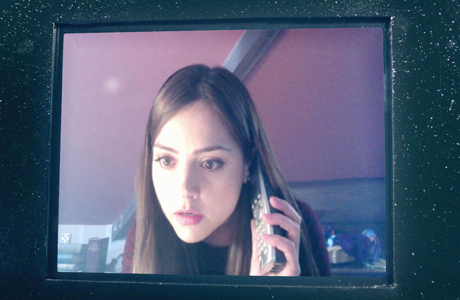 (refresh for updates – photos via Doctor Who Tumblr)
8:59 pm ET: Clara calling the TARDIS "a snogbox"? Her resisting the Doctor's invitation to come along? She's an intriguing creation, and I'm fascinated with her how her arc will unfold and how the many layers of her character will be peeled off. (Already she's challenging him unlike any other companion, save the equally enigmatic River Song.)
8:53 pm ET: Can we make Ms. Kizlet a recurring character? Love her, and Celia Imrie is playing her to the hilt. She had many of the episode's best lines, including this gem: "Actually, he's about to go on holiday. Kill him when he gets back. Let's not be unreasonable."
8:48 pm ET:
Tumblr and Real Life. http://t.co/0cplQ63aTr #doctorwho #spoilers

— Doctor Who BBCA (@DoctorWho_BBCA) March 31, 2013
8:44 pm ET:
https://twitter.com/setlockholmes/status/318161587083026432
8:41 pm ET:
8:38 pm ET: Ms. Kizlet: "I do love London. So many cameras."
8:35 pm ET:
THAT IS SO MY NEW MOTTO! "It's a time machine; you never have to wait for breakfast" @DoctorWho_BBCA

— Emma (@marsacademy) March 31, 2013
8:30 pm ET: This episode is really pulling out all of the stops. The Doctor and Clara safely land an out-of-control airplane? This is like several big-budget feature films within one episode.
8:29 pm ET:
8:27 pm ET: Steven Moffat getting in some friendly ribbing toward Twitter. Touché.
8:19 pm ET: Thoughts so far? I love the impish boyishness Matt Smith brings to the Doctor and how pleased he was to see Clara. He is an incredibly charismatic actor. The spoonheads give a slight nod to "Silence in the Library," and the rotating visages remain one of the creepiest images I've seen on the series.
8:16 pm ET:
8:13 pm ET Introducing Celia Imrie. What a great character actress. And Steven Moffat is bringing out a juicy, slinky, sexy side of her in this performance as a villainness.
8:11 pm ET
8:08 pm ET: When was the last time the phone on the TARDIS rang? Was it "The Empty Child"? It's always unsettling.
8:07 pm ET::
"When summer falls, the Lord of Winter will arise…" Don't miss the new ebook Summer Falls out on Tuesday 2nd April from BBC Books

— Doctor Who BBC Books (@DWBBCBooks) March 30, 2013
8:02 pm ET: Marvelous shifts from modern-day to a 13th century monastery. Things that can only happen on Doctor Who.
8 pm ET: All right, we're off, folks. "The Bells of Saint John!" Ready to add wi-fi to statues, little black boxes, pepper shakers, and the other things Doctor Who has made frightening?
7:57 pm:
https://twitter.com/blondieandcats/status/318149792477880320
7:53 pm: This is amazing. If you've watching with groups, tweet us your photos at @Anglophenia: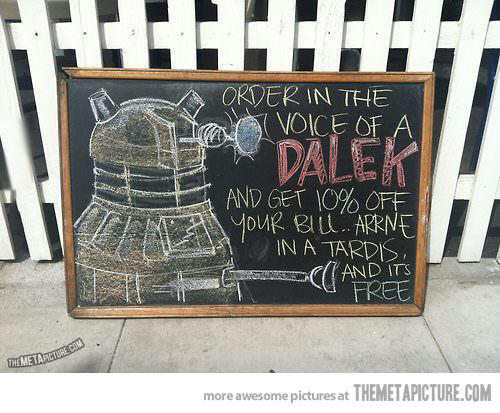 2 pm ET: After the four-month hiatus since the Christmas special, Doctor Who is back tonight on BBC AMERICA with "The Bells of Saint John," the first episode of Season 7, Part 2. In this episode, something deadly lurks in the world's wi-fi signals, sucking in human consciousness and imprisoning souls. As far as wi-fi is concerned, we're just hoping that it's fully functional when we live-blog tonight's episode starting at 8 pm ET sharp, right here in this post. Please join us with a plate of your favorite biscuits, preferably Jammie Dodgers.
Doctor Who, of course, is just the beginning of BBC AMERICA's Supernatural Saturday extravaganza. The series premiere of Orphan Black launches at 9 pm ET, following Doctor Who, and stay tuned at 10 pm for the season premiere of Chris Hardwick's The Nerdist, which features special Doctor Who guests Matt Smith and Jenna-Louise Coleman.
Read More
Filed Under: