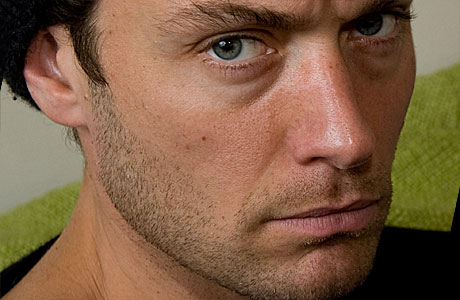 Jude Law (Sherlock Holmes) is the second person, in two days, to withdraw from the independent Western film Jane Got a Gun, reports RadioTimes.com.
Well, to be exact, Scottish director Lynne Ramsay (We Need to Talk About Kevin) didn't resign from the project, she just didn't show up for the first day of shooting. This is an extremely rare occurrence for the director to be a no-show.
Deadline.com's Mike Fleming Jr. added his two cents saying, "A lot of filmmakers step off projects and we chalk it up to creative differences, but I can't remember a situation when a filmmaker who developed a film didn't show up for work on the day it starts production."
It's believed that Law's departure is based on the director being swapped out at the last minute. It's been reported that Law signed on to work with the director. What's going on here, Jude? If she jumped off a bridge, would you? Okay, we jest. But, there has to be more to the story other than Law just wanting to work with a specific director. It's a pretty risky move in the fact that he could be labeled as "difficult" or "unreliable." We expect more will come to light in the next few days.
Producer Scott Steindorff released a statement saying, "We're ready to shoot, we have a great script, crew and cast. I'm shocked and so disappointed someone would do this to 150 crew members who devoted so much time, energy, commitment and loyalty to a project."
Ramsay has yet to make a comment explaining her reasoning.
Natalie Portman is confirmed to play Jane. What if she drops out? That would be so depressing. Portman is probably a little like, "Umm, what's going on here?"
Do you think this film will make it to screen? 
Read More
Filed Under: