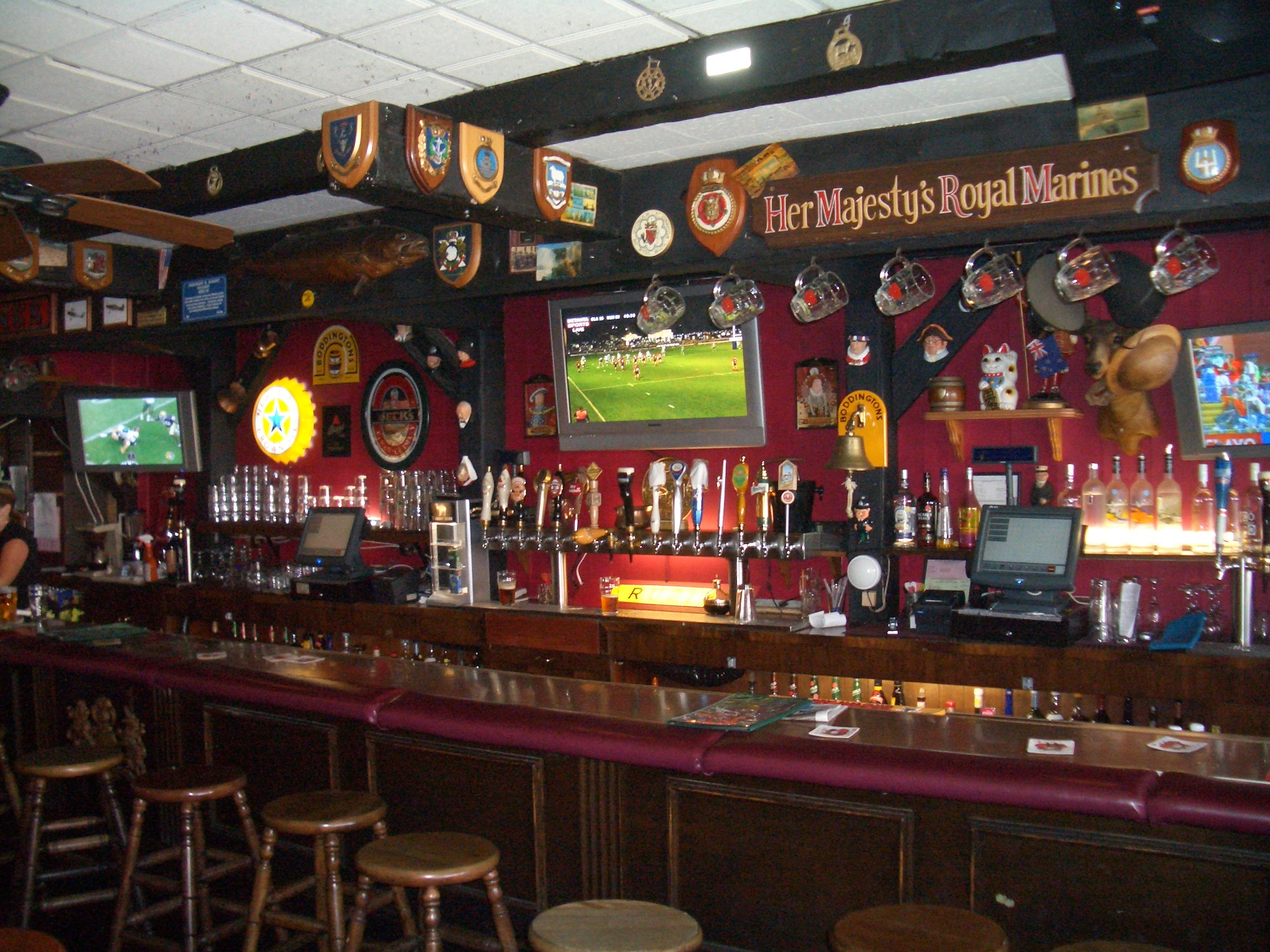 It's said that you're never more than half an hour from the sea in England, so there's definitely some truth behind the lyrics of the 1907 music hall song "Oh We Do Like to Be Beside the Seaside."
Despite being 5,500 miles away, this seems to be the case for expats in California too: there's a large community of them in Santa Monica, a breezy, hipster seaside city that's famous for its seafood and the Ferris wheel on its pier — you've seen it in television shows and movies, usually when it gets destroyed by an earthquake or tsunami.
Several British pubs can be found in Santa Monica, but many would argue that the most famous of these is Ye Olde King's Head. It opened in 1974, and even Brits who don't want to watch the rugby — nor fancy a pint or fish and chips — are often directed here to their well-stocked Gift Shoppe for a taste-of-home tea bags, baked beans, candies, chocolate, cookies, Christmas crackers, newspapers or other patriotic treats.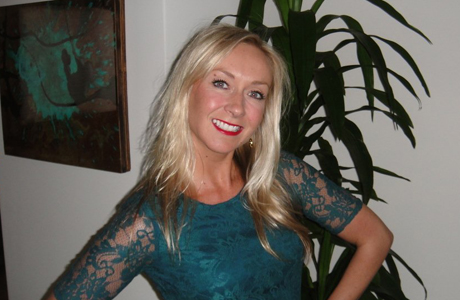 Operations manager and expat Lisa Powers took some time out from another busy afternoon to talk about her experiences here. Her job means that she "wears many hats," she says. "I deal with HR/hiring, payroll, compliance with Health Dept, the Fire Department, Workers Comp, insurance, advertising and marketing, promotions, menu development, accounting, etc."
She arrived in the U.S. some 11 years ago, though it wasn't her first time in California: "I had been coming here since I was four years old on vacation with my family, and I always felt like I belonged. Then in 2000 I did a year traveling around the world and could not settle back in England, so my husband and I did our paperwork and moved here. We both love L.A. The lifestyle suits us."
Inside, it's just like you'd imagine a Brit country pub outpost would be: on the bar side there are dart boards, English beers on tap, memorabilia and flags, and then in the large, three-room restaurant area next door there's the tiny "Bulldog" bar, or you can sit down for afternoon tea, bangers and mash, shepherd's pie or many other delicacies in a world of wooden chairs, royal portraits and China plates. There's a real fireplace in winter, too.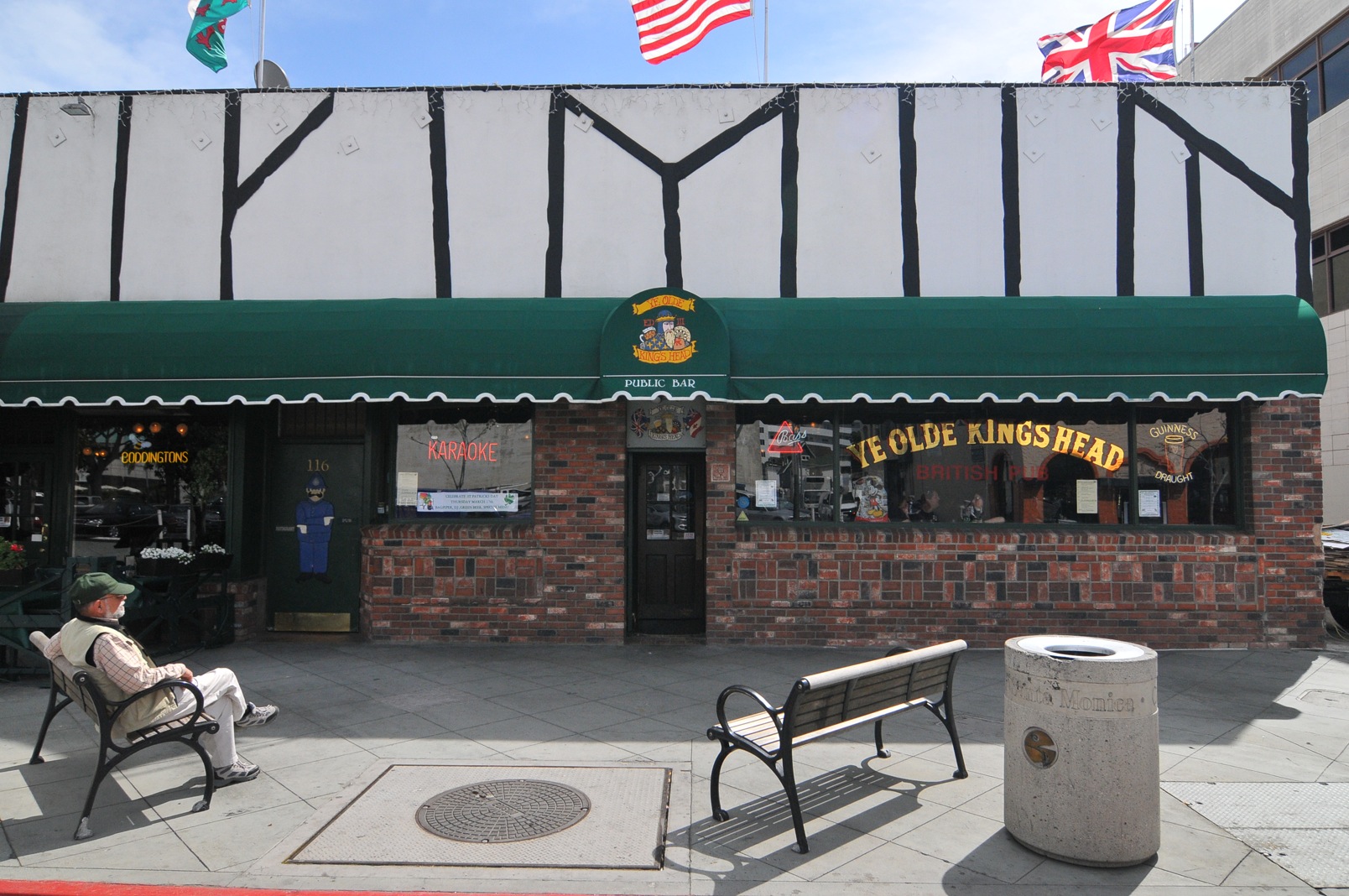 Powers' uncle Phil and aunt Ruth opened YOKH, as it's affectionately known, back in the early '70s, and now that they have both retired Powers works for the new owners, who have looked to take the face of the King even further afield.
Barely two years ago they opened their second pub — also called Ye Olde Kings Head — in Studio City, a well-to-do suburb in the San Fernando Valley, somewhere that's more known for its wilting heat than its sea view. It has its own Pantry with the same Brit goodies, and has been a roaring success since the doors opened.
The original Santa Monica location has become somewhat of a kind of bricks-and-mortar ambassador for Britain over the years, and Powers says that they're "an Institution in the U.S. — everyone knows about it. We have built a fantastic reputation." She also noted that many Brits even make it their very first stop when they arrive in town: "Many people come in for a job! Also, many ask where they can pick up a game of English football."

Soccer and rugby game days are always raucous and busy, and their most active times are St. Patrick's Day in March and New Year's Eve (when New Year is celebrated 8 hours early, at 4 pm in the afternoon, in order to match the festivities taking place in the U.K.). Los Angeles is one of the last big cities on earth to celebrate that milestone, and knowing that your family back in the U.K. is probably in bed by the time you're clinking champagne glasses does bring one of the disadvantages of California life right home to you.
"I do miss my friends and family," Powers says, "but most of them come to visit, and I'm very lucky in that many of them have moved here. Of course, my friends love to come to visit in LA too. I used to miss the shopping, but we now have Topshop."
There is one thing that Powers really does miss though — and it's something that new Brits will find other long-established expats arguing about (or agreeing with): "Being from Birmingham, I would definitely say that I miss a really good curry."
Her favorite thing about L.A. is also something that many expats will agree with: "There are too many things really, but if I have to narrow it down I would say the weather."
Powers has some honest advice for newly-arrived Brits, or those thinking about making a move over to Los Angeles: "You have to really want it! It's tough here and expensive. I see many of the actor/singer/model types coming over from the U.K. and sadly see them leave months later with shattered dreams and their tail between their legs. Secondly, do it legally. Finally, enjoy every minute — go, see, eat, do!"
As for the future of Ye Olde King's Head, Powers says that "hopefully we'll expand further," and mentions their newest venture, a bakery inside the Gift Shoppe, where you can get favorites like sausage rolls, pies, pastries and some delicious cakes.
There's always a friendly welcome here, no matter what team you support or where you're from, and as the many pictures on the wall prove, you're in good company; from movie stars to soccer legends, everyone who is anyone has visited here over the years – and they still do.
"My personal favorite celeb was Gerard Butler. He was super nice," she says. "The worst? That I can't tell you!"
Ye Olde Kings Head is on Facebook.
Read More
Filed Under: